"If you sully my divine work, I will have to do the same to mine own hands by wringing your neck, mortal!"

This article, "Anastasia Zharkov", is property of Mrs Sting Eucliffe, so please, hands off this file unless given explicit permission to edit. Thank you.
This page, Anastasia Zharkov, is currently under construction. Please bear with the changes made by the author.
Anastasia Zharkov (アナスタシア ザーコブ, Anasutashia Zaakobu) is an Esper, and the official Guild Ace of the Fox Tail guild, and is thus the guild's most powerful member, having never lost a single battle in over a decade. She is known especially for her partnership with her Planetary Spirit, Jupiter.
Appearance
In terms of physical appearance, Anastasia has a delicate, beautiful body and face, with long, silky, tea-coloured brown hair that flows freely down her back. Some parts of her hair are also slightly curled along towards their tips, and her bangs have been parted on the right, with the heavier side swept to the left. Anastasia's eyes are a golden-brown colour, her skin is gently tanned with no flaws; no abrasions, no tattoos, no scars. Her skin is quite smooth as well, with no oily zones anywhere on her body. Her usual outfit for warmer days consists of a violet dress, black shorts and matching knee-socks, and a pair of white leather boots. Meanwhile, her attire during travel or colder days includes black jeans with a cream, golden-buttoned overcoat and white scarf, with a red jumper-dress beneath it. She also pairs this with white gloves, and the same boots she wears on any other day. When constant physical activity is required, such as in a battle or long-distance travel, Anastasia will often tie her hair into a ponytail for convenience.
Personality
History
Synopsis
Appearance
Magic and Abilities
Esper Physiology
Planetary Celestial Spirit Magic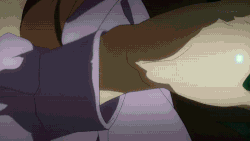 Immense Magical Power
Trivia
Community content is available under
CC-BY-SA
unless otherwise noted.