This article, Arcanic Scale, is property of FbAddict.
Arcanic Scale
Kanji

アルカイニックスケール

Symbol

Master
Type

Dark Guild

Location

Arcanic Scale (アルカイニックスケール Arukainikku Sukēru) is one of the most powerful Dark Guilds in Egalia and wish to overthrow the Ministry of Magic and take over Egalia, transforming it into a Dark Mage Continent (闇魔導士大陸 Yami Madōshi Tairiku). They do not have a ranking system but seem to rely on aliases to determine rank.
Location
Building
History
Members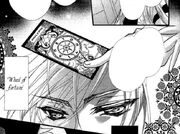 Epithets
This Guild uses a "ranking system" based on epithets/nicknames relating to the major arcana. These can be due to either their appearance, abilities, personality or even role in the guild. The members of Arcanic Scale also carry a tarot card on their person, symbolising their epithet, this serves as a form of Organic Link Magic: with each member of the guild being defeated, their energy will be 'donated' to Strombola and upon defeat - the card will become blank.
Strength
Trivia
Community content is available under
CC-BY-SA
unless otherwise noted.