This article, Azriel, is the extensive property of Highest Bounty.
No other user is allowed to alter, refer and specially copy, the content present on the page.
If you have any questions, please cotact the aforementioned user.
"I am Heaven, but I am unkind."

— Azriel's catchphrase
Azriel
Kanji

アズリエル

Rōmaji

Azurieru

Alias(s)

Heavenly Knight (天津士, Amatsukishi)

Characteristics

Status

Alive

Race

Human

Gender

Female

Age

45

Education

Rune Knight Academy
Michael

Appearance

Hair Color

Red

Eye Color

Blue

Professional Status

Affiliation
Previous Affiliation

Michael

Occupation

Holy Knight
Leader of the Holy Knights

Previous Occupation

Squire

Partner(s)
Previous Partner(s)
Team

Holy Knights

Base of Operations

Holy Knights HQ
Magic Council

Personal Status

Sexuality

Heterosexual

Marital Status

Single

Powers & Equipment

Magic

Verba Dei

Equipment

Verba Dei (バーバ ディー, Baaba Dii lit. Words of God)
Azriel (アズリエル, Azurieru) is the current leader of the Holy Knights, a unit of the strongest Rune Knights within the entirety of the Magic Council, and as its leader, is considered the strongest member, although even she admits it is debatable. Chosen for her contributions to the training regimes of the Rune Knights, eventually being added to the main trainings and preliminaries the Rune Knights must undergo, Azriel is a combat-heavy Holy Knight, who possesses one of the world's most powerful offensive spells.
She is probably most famous for being the former Squire of Michael, the leader of the First Generation Holy Knights, who eventually went rogue as the "Dark Holy Knight", leaving Azriel behind due to her inability to come into terms with his cause. The experience served to harden Azriel into bettering herself, which lead to her promotion and contributions, eventually becoming known as the Heavenly Knight (天津士, Amatsukishi). Her squire is the trusted Zadkiel, although she is also plays a part as the mother and sister figure to another Squire, Sariel.
Appearance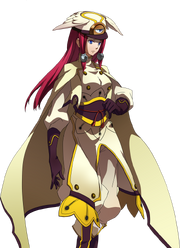 Personality
Equipment
Verba Dei
(バーバ ディー,
Baaba Dii lit. Words of God
):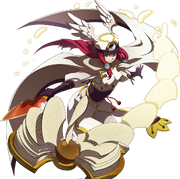 Powers & Abilities
Physical Prowess
Magical Abilities
Verba Dei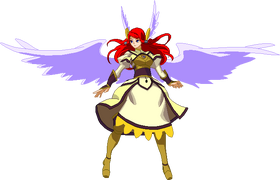 Trivia
Azriel's appearance is based off of Hakumen from BlazBlue.
The Zohar says that Azriel receives the prayers of faithful people when they reach heaven, and also commands legions of heavenly angels. This reflects Azriel as the leader of the Holy Knights.
Azriel's real name remains unknown due to her extreme loyalty and devotion to her goals and role, treating the title Azriel as her actual name at times.
Community content is available under
CC-BY-SA
unless otherwise noted.