This article, Baba Yaga, is property of SluttPanda.
Baba Yaga
Kanji

ババヤガ

Rōmaji

Baba Yaga

Characteristics

Race

Human

Gender

Female

Age

76

Birthday

August 9th

Hair Color

Pale Pink

Eye Color

Pink

Blood Type

O-

Professional Status

Affiliation
Previous Affiliation
Occupation

Retired Mage

Previous Occupation
Team
Partner(s)
Base of Operations

Personal Status

Status

Retired

Magic

Magic
Weapons

Cane
Baba Yaga (ババヤガ, Baba Yaga) is a retired mage of the Gramlush Guild. She now lives in the Ivy Forest alongside her former guildmates Arachne and Helga Hagfish, she is the middle of the trio. She possesses a Familiar Spirit named Volar.
Appearance
Current AppearanceCurrent Appearance | Younger AppearanceYounger Appearance
She appears as a very short, old woman with vivid pink eyes and a long protruding nose, with a large wart on the left side, wrinkled skin and pink eyes. Her hair is a very pale shade of pink and is worn quite long, reaching her collar bones and parts in the middle of her forehead, leaving her bangs that frame either side of her face. She wears a magenta coloured dress with three large white circles running vertically down said dress. Over it she wears a purple coloured cloak which covers the most part of her head and has several green sectors on it. she wears small, brown coloured boots.
While still a member of Gramlush, Baba was noticeably taller and her hair reached waist-length and was an incredibly vivid shade of pink, much brighter than her current hair colour. Instead of a cloak over her hooped dress, Baba wore a purple witch's hat and cape, the rest of her attire remained the same.
Personality
History
Like Arachne and Helga, Baba was formerly a member of the Gramlush Guild where she was a prominent member, she has now retired and lives in the Ivy Forest with her fellow Grimm Sisters in their magical Cupcake Cottage.
Synopsis
Magic and Abilities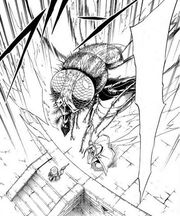 Familiar Spirit Magic (使い魔の精霊魔法,Tsukaima no Seirei Mahō): Baba's main magic allows her to form a contract and summon a familiar spirit, the name of Baba's familiar is Volar (ボラー Borā). Volar takes the form of a large, green fly, with red eyes and semi-transparent wings. 
Flight: As a fly, Volar can use it's wings to soar through the air at a brakeneck pace, Baba can ride on his back in order to travel longer distances faster.
Acid Magic (酸魔法, San Mahō): Volar is able to generate a highly corrosive magical acid withing his stomach and release it in large torrents from his snout-like mouth. 
Unknown Level of Magical Medicinal Skill: As an apothecary of the forest, like Porlyusica of the East Forest, Baba is able to create various medicines and potions which can heal wounds inflicted by Magic through preparing various herbs and plants, her level of expertise is unknown.
Weapons and Items
Walking Cane: Like her fellow Grimm Sisters, Baba carries with her a cane to assist her when walking with a bad back. Her's isn't very intricately designed, rather very simplistic in appearance: it is a long, wooden stick with a curved, spiral tip. It doesn't seem to grant Baba with any additional magical abilities although, she can use it as a melee combat weapon.
Trivia
She is based on Merlin from Shaman King
Her familiar's name is spanish for 'Fly'.
She is the middle of the three Grimm Sisters.
Community content is available under
CC-BY-SA
unless otherwise noted.