Blair is an article created by Pink Phantasma. Do not edit it without her consent. If you do, you get the death penalty! If you would like to use this article in any way, talk to me here!.
Note: This page or section is currently under construction. The author(s) are very sorry.
Blair
Kanji

ブレア

Rōmaji

Burea

Characteristics

Race

Exceed

Gender

Female

Age

6 (Before time-skip)
13

Hair Color

Lavender with white muzzle

Eye Color

Gold

Professional Status

Affiliation

Lovely Maiden Guild

Previous Affiliation

Blue Pegasus
Mermaid Heel

Guild Mark Location

Back

Occupation
Team
Partner(s)
Base of Operations

Personal Status

Status

Active

Magic

Magic

Blair (ブレア Burea), is an Exceed, former member of the Blue Pegasus and the Mermaid Heel Guild and currently a member of the Lovely Maiden Guild. She is a member of Team Isanne, and partner of Isanne Yukimura.
Appearance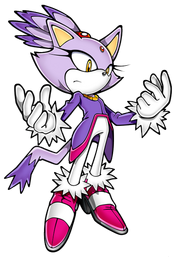 Blair is a lavender colored Exceed with peach colored ears and gold eyes. She has a long dark purple tipped tail and four tendrils of hair that is also tipped with dark purple. She also doesn't have any whiskers, which is unusual for an Exceed. Blair's usual outfit consists of a very extravagant violet dress bordered in gold-like segments at the collar (could actually be a necklace) and trimmed in magenta around the flaps that cover her waist and hips with very form-fitting, contoured white trousers. She also wears a pair of white-gloves with dense, fur-lined cuffs, a pair of magenta high-heel shoes with durable, silvery soles, white strap accents, and are embraced at the top by dense fur-lined collars. She wears a red, glossy ring to bound the four tendrils of hair at the top of her head together and has a mysterious red gem that is embedded on her forehead that has no known meaning or significance.
Personality
Under Construction!
History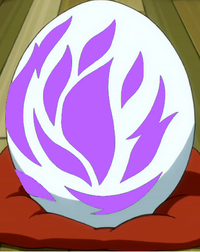 Blair's home world is Edolas, kingdom of Extalia, and she's one of the Exceed. Years ago, before Blair was even born, she was taken away from her parents, by the queen of Extalia, Shogotte, to carry out the Dragon Slayer assassination plan. In actuality, sending her to Earth Land, along with all the other Exceed eggs, was to allow her to escape a future disaster in Edolas.
Isanne found Blair's egg while wandering around a forest. Seeing as the egg was homeless and alone like herself, took in and raised the egg until it hatched. What she didn't expect to come out of the egg was a purple kitten with wings, who she decided to name Blair.
Magic & Abilities
Aera (翼 Ēra) Blair can use Aera, allowing her to sprout wings on her back and fly. She is also strong enough to carry one person while in flight.
Fire Magic (火の魔法 Hi no Mahō) Blair can use fire magic which she learned some time over the past seven years.
Fireball (火の玉 Fireball) Aside from using fire magic, Blair can make fireballs from it. Blair forms a ball of fire in her hand and uses it to throw at her opponents.
Quotes
Under Construction!
Trivia
Under Construction!
Community content is available under
CC-BY-SA
unless otherwise noted.