"Work Hard, Live Well"


This article, Breaker Beach, is the sole property of Phantom and cannot be used, edited, or referenced without his permission, with the exception of collaboration articles, whereas terms listed above are unserviceable.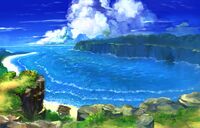 Breaker Beach
Breaker Beach is one of the Phantom Breaker's most popular spots for not only the members, but for normal people as well. This is the one of the many places in all of Genosha that is not ever affected by any natural disaster or climate change.
History
After bringing security to the people of Genosha, Master Mao knew that it would not last longer than it should, and quickly began working on permenent solutions. His travel's of Genosha eventually led to the discovery of various safe zones, locations not affected by any unnatural phenomenons, including one that was sitted on the perfect beach spot far away from any of the danger zones. Realizing his luck, he decided to build his guild right on the border of the safe zone, which he dubbed Breaker Beach to make sure they would have a way out of Genosha if it ever collapsed. Ocassionally after special events, most guildmates of Phantom Breaker come here to relax and enjoy the quiet from time to time.
Community content is available under
CC-BY-SA
unless otherwise noted.