Charlie Albirheo
Kanji

チャーリー · アルビレオ

Rōmaji

Chārī Arubireo

Characteristics

Race

Human

Gender

Male

Height

147 cm

Weight

33 kg

Professional Status

Affiliation

Star Flower (Guild)

Guild Mark Location

Palm of left hand

Occupation

Mage

Partner(s)

Ranpu

Base of Operations

Fiore

Personal Status

Status

Active

Relative(s)

Deceased Mother
Deceased Father

Magic

Magic

Heart of Magic

Weapons

Book of Spells
Magic Wand
This article, Charlie Albirheo, is property of Davidchola2.
Charlie Albirheo (チャーリー · アルビレオ Chārī Arubireo) is a Mage from the Star Flower Guild.
Background
Charlie was born in a small village in the outskirts of the Kingdome of Fiore. His father died during his mother's pregnancy and he never got to meet him. His mother suffered from an unknown disease, that wasn't known even by the top doctors in Fiore. Charlie was always fond of magic and spent his life in his house pretending to be a mage.
One day, his mother's disease increased in strength and, as she knew she didn't last longer, she gave Charlie an ancient book, with several spells. She also gave him a small pet, Ranpu (ランプ), who would later turn out to be his partner and best friend. His mother died in front of his eyes, and he forever swore that, one day, he would be a great Mage that would revive them.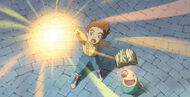 Four days after his mother's death, he finally gained the courage to open the book given to her. In the moment he opened the book, the pages quickly flipped and unleashed a wave of energy, that turned into a sphere. The sphere entered Charlies' body, filling him with a magic aura, that awakened his dormant powers.
Appearance
Charlie is a young boy, with brown to orang hair and blue eyes. He is small, something that made him a target of mockery by others. His outfit can be seen as a blue vest with a belt over a white shirt, white pants and a red cape, buttoned up with a green gem. With the outfit, he is seen carrying several things: his magic wand, kept in a small pocket, a necklace passed down to him by his father and his Book of Spells, which he uses to perform magic, as well as to learn spells.
Personality
Magic and Abilities
Magic
Abilities
Community content is available under
CC-BY-SA
unless otherwise noted.