This article, Desierto, traces its origins back to Nearó, it would be highly unwise to meddle with his creation. Should you wish to use or change it, then you must seek his Permission
Note: This page or section is currently under construction. The author(s) are very sorry.
Desierto

Flag

 | 

Location

Name
Desierto
Kanji
デジアルルトのスルトン
Romaji
Dejiaruruto no Suruton

General Information

Government
Sovereign
Ruler(s)
Aldric Anbā
Ruling Family
House of Anbā
Capital
Ardeshir
Population
27 Million
Demonym
Desiertonians
Currency
Deniers

Geographical

Location
Ishgar

Political

Global Status
Neutral
The
Sultanate of Desierto
(デジアルルトのスルトン
Dejiaruruto no Suruton
): is one of the several countries located on the peninsula known as
Ishgar
, located in the south-eastern a part of the peninsula and being bordered to countries such as Ministril, Joya and Bellum. A harsh landscape but economically thriving country via the use of trade, home to a wide varierty of animals, individuals, tribes and traditions.
The country itself was once known as the Kingdom of Desierto (デジアルルトの王国 Dejiaruruto no Ōkoku) but has since X757 been re-established as an organized government as a response to the countries previously out-dated laws and poorly established monarchy; changing its course of leadership compared to other countries. It's currently ruled by the House of Anbā's second generation, Aldric Anbā having been seated as their Sultan since X765 and Seras Anbā being next in line.
Localization
Geography
Administration and Government
Members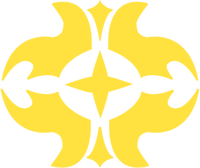 Military
History
Notable locations
Notable Locations in Desierto
Trivia
Community content is available under
CC-BY-SA
unless otherwise noted.