This article, Dogra, is property of FbAddict.
Dogra
Kanji

ドグラ

Alias

Doggie (by Blake)

Characteristics

Race

Unknown

Gender

Male

Age

Unknown

Hair Color

None

Eye Color

White with Dark Rings

Professional Status

Affiliation

Sieg (through Blake)

Personal Status

Status

Active

Magic

Magic
Weapons

Magical Masks
Dogra(ドグラ Dogura) is a magical beast that has been contracted by Sieg mage Blake Asakura.
Appearance
Personality
Relationships
Blake and Dogra have a very good relationship. Dogra doesn't seem to mind Blake's affectionate nickname of "Doggie" and is very willing to assist him in any endeavours that he takes part in whilst summoning Dogra.
History
Synopsis
Magic and Abilities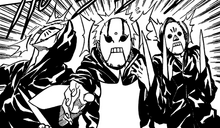 Possession Magic (所持の魔法 Shoji no Mahō): Dogra uses a Holder Magic variant of Possession Magic, where he is able to dispense magical masks from his body cavity and attach them to others faces. When they attach to another's face the mask begins to glow with magical energy and Dogra is then able to control their movements and speech.
Immortality: So long as he remains contracted to Blake, Dogra cannot die.
Weapons & Items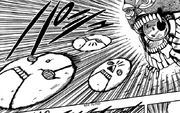 Magic Masks: Within Dogra's body are several magical masks which appear long, white and are decorated with various markings on them. They are able to possess someone and take over their very will, making them subservient todogra's own will.
Trivia
Community content is available under
CC-BY-SA
unless otherwise noted.