Note: This page or section is currently under construction. The author(s) are very sorry.
Elaina

Characteristics

Race
Gender

Female

Age

14 (Physically)
400+ (chronologically)

Height

5'9

Weight

126 pounds

Birthday

June 1st, X302

Hair Color

Pink

Eye Color

Sunset pink

Blood Type

A

Professional Status

Affiliation

Sniper Raid

Previous Affiliation

Unnamed Vampire Pack

Guild Mark Location

Sternum

Occupation

Assassin/Mage

Team

Band of Seven

Personal Status

Status

Alive

Magic

Magic
Weapons

Command Baton
Elaina (エライーナ eraiina) is a very powerful mage and assassin of the infamous Sniper Raid guild. Inside of the ranks of Sniper Raid, Elaina is apart of the Band Of Seven, a group of S-Class level mages inside of the guild; this title is one that should not be taken lightly, as Sniper Raid is known to have very powerful members. Although she appears very young, Elaina is very well the oldest of Sniper Raid, as she has been around since the very beginning of the Dragon War; this is due to her racial status as a vampire, which has appropriately blessed her with immortality. In her younger days, she was apart of a very dangerous group of vampires, but left for unknown reasons when Sniper Raid was founded, and quickly joined and rose in the ranks.
Elaina is known by her moniker "Big Boss" (ビッグ ボス biggu bosu) because of the nature of some of her magics, which include Command Magic, and Ethereal Body Subordination Magic.
Appearance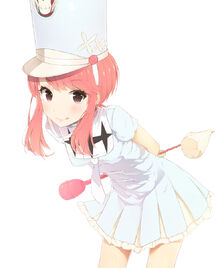 Elaina is a very cute, petite young girl, with sunset-pink hair that is mostly hidden under her conductor's hat, with the exception of two thick pieces that fall out and frame her angular face. On her head, she wears a cylindrical white hat with a large brim, and three white X's on the right side. The strap that is supposed to go directly on Elaina's neck is much to big, so it instead hangs off of her face, and the hat will occasionally fall off. Elaina has muddy pink eyes that show brightly, and contrast perfectly against her pink hair. For her attire, she wears a simple white dress, that goes down to her lower hips. This dress is adorned with a bib-like flap of fabric around the neck, as well as a white tie. The bib-like flap is overall white, with black star shapes going horizontally across. The skirt of the dress is beautifully pleated, and has a visible cream underskirt that frills out a small amount from under. Elaina wraps up her outfit with pink dress shoes, with a small white bow. The baton that Elaina is always seen carrying is a golden rod, with a large bulbous ending, and what seems to be a small tail of white fur on the other end.
Personality
Magical and Physical Abilities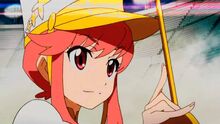 Community content is available under
CC-BY-SA
unless otherwise noted.