"Even if you beg for mercy, I won't listen!"


This article Elise Blackwood, is the sole property of CPU Noire and as such, no user may edit this article without explicit permission from the aforementioned creator. If you wish to use this article in any way, please ask me first
Elise Blackwood
Kanji

エリス ブラックウッド

Rōmaji

Erisu Burakkuuddo

Alias

Witch of the Rift (狭間の魔女, Hazama no Majo)

Characteristics

Race
Gender

Female

Age

130

Birthday

31 October

Hair Color

Blonde

Eye Color

Green

Blood Type

O

Professional Status

Affiliation

Four Witch Queens

Previous Affiliation

None

Occupation

None

Partner(s)

Doppel (familiar)

Image Gallery

Elise Blackwood (エリス ブラックウッド Erisu Burakkuuddo) is a Witch (黒煙の魔人 (ウィッチーズ), Uitchiz; literally meaning "Magical Beings of Dark Smoke"), specifically an Archwitch (黒煙の覇魔王 (アーチウィッチー), Ākuuitchu; literally meaning "Supreme Magical Ruler of Dark Smoke") serving as one of the Four Witch Queens (四鬼女后, Yokijokō). She serves as the Witch of the East, and her unique abilities have caused her to become known as the Witch of the Rift (狭間の魔女, Hazama no Majo).
Appearance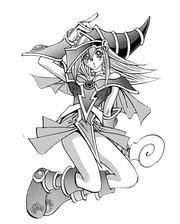 Despite her advanced age, Elise still bears the appearance of a young woman. She possesses fair skin, long blonde hair, and bright green eyes. On her face is a constantly pink blush. Her attire is unique, and certainly odd; coloured blue with pink and yellow highlights, it is composed by top worn off her shoulders, revealing ample cleavage and fastened with a jewel adorned a design. Her outfit extends into to cover her torso and extend into a flared out pink skirt. She wears blue and pink gauntlets, and matching coloured boots that extend up to her thighs. For accessories, she wears a blue and pink hat, shaped similar to a cornucopia, as well as a cape that extends from her top.

Personality
History
Equipment
Broom (飛木器 (エニシダ), Enishida; literally meaning "Flying Wooden Vessal"):
Universal Guide to Witchcraft Arts and Potion Brewing (魔術芸術と水薬造に普訓迪, Majutsu Geijutsu to Suiyakuzō ni Fukunteki):
Witchcraft & Abilities
Physical Abilities
Witchcraft
Trivia
Despite Witches technically being exclusive to User:Highestbounty123, the author was given permission to make a witch by Bounty.
Community content is available under
CC-BY-SA
unless otherwise noted.