Emerald-Make
Kanji

エメラルドの魔法のモデリング(エメラルドメイク)

Rōmaji

Emerarudomeiku

Information

Type
Users
Emerald-Make (エメラルドの魔法のモデリン,エメラルドメイク, Emerarudo Meiku) is a Caster Magic, and Takahashi Hikaru is the only known user.It involves the creation of objects using emerald.
Description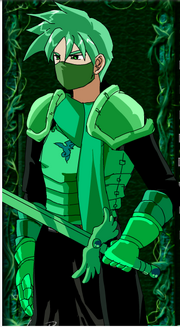 Emerald-Make is a Type of
Molding Magic
which utilizes the element of Emerald.The User can make objects made out of Emerald for Offense,Defense or 
miscellaneous purposes.The user can also change their surroundings using emerald,such as making a giant wall to prevent a blast from hitting.
There are currently two known types of Emerald-Make Magic,just like Ice-Make Magic. The first one is called Static Emerald-Make. This type of Emerald-Make is characterized by the creation of inanimate objects, such as weapons, or by affecting the environment around them. The second type is called Dynamic Emerald-Make. This type of Emerald-Make focuses on creating animated emerald sculptures, usually in the form of animals.Dynamic Emerald-Make is said to be quicker to cast than Static Emerald-Make. 
Spells
Takahashi's Spells
Known Dynamic Spells
Known Static Spells

Community content is available under
CC-BY-SA
unless otherwise noted.