Shhh! My common sense is tingling!!

♔▬▬▬▬▬▬▬▬▬▬▬♦۞♦▬▬▬▬▬▬▬▬▬▬♔​
This article, Erza Scarlet (Zikimura) and most of its contents are the sole property of Zikimura. Do not use or edit this article without his explicit permission. If you wish to use or change this article in any beneficial way, please click here! Thank you!
This page, Erza Scarlet (Zikimura), is currently under construction. Please bear with the changes made by the author.
"The third day of the Grand Magic Games. Pandemonium. I don't think I will ever forget this day. Even while heavily wounded, a fairy that should have fallen to the ground, soared. Titania! Here you are, just like like a dignified scarlet flower in all of its glory!"
— Levy witnessing Erza's overwhelming victory at Pandemonium.

Erza Scarlet (エルザ・スカーレット Eruza Sukāretto) is one of the most prominent S-Class Mages of Fairy Tail who is famous for her impeccable swordsmanship and uncompromising attitude when it comes to her guild. She attained the position as the ripe age of 15 years old after defeating the guild's rising star Laxus Dreyar in an all out duel, both of them going overboard during the test. Erza is most known for completing dangerous missions with low chances of success like destroying dark guilds, or slaying high level magic beasts. She had saved many lives in the process, earning her second epithet, the Vanquisher of Darkness, Bringer of Light (闇の敗者, 光の搬入 Yami no Haisha, Hikari no Hannyū) for her accomplishments.
Appearance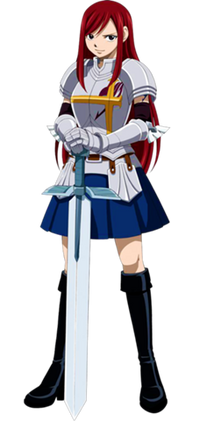 Personality
Magic & Abilities
Natural Abilities
Magic Abilities
Trivia
Permission was granted for this article by Perchan.
Community content is available under
CC-BY-SA
unless otherwise noted.