Characteristics

Race

Human

Gender

Female

Age

19

Height

5"6 1/2 Ft

Weight

110 Pds

Birthday

January 1

Hair Color

Black

Eye Color

Black

Blood Type

O+

Professional Status

Guild Mark Location

Left Thigh

Personal Status

Status

Alive

Counterpart

No Edolas Counterpart

Magic

Magic
Eve is an S-Class Mage in the Pantheon and the strongest female Mage. She also bares the epitaph Gaia (ゲーア, Geea|Earth Mother, イアース モサー, Iaasu Mosaa) giving her the name Queen of Gods (クイーン オフ ゴドス, Kuiin ofu Godosu).
Appearance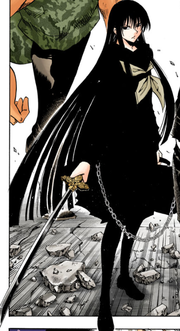 Eve is considered the most beautiful female Mage in the Pantheon guild. She has long jet black hair with black irises which shine like obsidian glass. She has an beautiful body with pale skin.
Personality
Eve is a serious mother figure. Despite her young age she is one that believes one's believes should be as strong as their actions. If one's beliefs are weak she thinks it will lead to weak actions. She when she was much younger, was locked in a small room. This lead to her developing a small case claustrophobia. After been taken by her uncle and membership of the Pantheon, she started developing emotions other than fear. Her fear came from being a survivor of a village raid. It was one of the cults that raid villages for child to build the R-System. She was playing in fields getting food. When she returned home the village was a blaze. The raid had come and gone. This trauma lead her to believe to be strong, otherwise she would die.
During her young years in the guild, she acted like a mother figure toward her guild mates.
Community content is available under
CC-BY-SA
unless otherwise noted.