Eve Paragorica
Kanji

イブ・パレゴリック

Rōmaji

Ibu Paregorikku

Characteristics

Race

Human

Gender

Female

Age

24

Height

160 cm

Weight

45 kg

Hair Color

Dark brown

Eye Color

Blue

Blood Type

O+

Professional Status

Affiliation

Heiltreich

Occupation

Priestess

Base of Operations

Heiltreich Church

Personal Status

Status

Active

Magic

Magic

Eve Paragorica (イブ・パレゴリック Ibu Paregorikku) is a Priestess in the Heiltreich church.
Appearance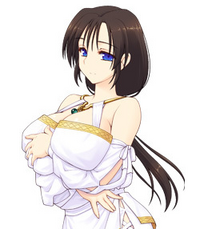 Personality
History
Magic and Abilities
Magic
Sky God Slayer Magic (天空の滅神魔法 Tenkū no Metsujin Mahō): Sky God Slayer Magic incorporates the element of wind into the user's body, allowing the user to produce black winds. The user is also able to consume winds of any sort to replenish his/her strength. The user is also able to cast healing spells. Eve utilizes her magic solely to heal others.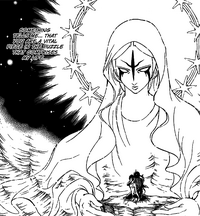 Sky God's Cardea (天神の聖天(カルディア) Tenjin no Carudia; Literally meaning "Sky God's Sanctity of the Heavens"): A magic spell that allows Eve to utilize the target's own magical power combined with hers to cure injuries and curses. It is a healing magic that summons forth the image of a female saint with a starry halo. She places the giant halo around Eve and the target, creating a powerful shield. The saint then places her hands in a praying position, closes her eyes, and gradually, gathers magical power to heal the person in question. If an intruder shows up, the saint stops praying and attacks the enemy with a flash of light. In order to heal the target, Eve must hug them, keeping them secure with her, until the wounds close or the curses are nullified. Cardea is one of the Roman godesses of health and cure.
Abilities
Equipment
Relationships
Trivia
Her concept is based off of a character with the same name, Eve Paragorica, from Little Big Planet 2. Eve was a healer on her asylum that dedicated her life to cure others.
Her last name, Paragorica, is a modified version of the word "Paregoric", an antidiarrheal medicine.
Quotes
Major Battles
The character(s) in this article is/are featured on the fanon storyline: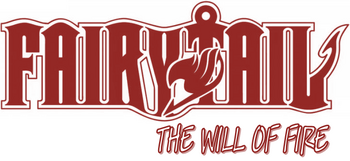 Community content is available under
CC-BY-SA
unless otherwise noted.