"Even if you beg for mercy, I won't listen!"


This article Evelyn Pandora, is the sole property of CPU Noire and as such, no user may edit this article without explicit permission from the aforementioned creator. If you wish to use this article in any way, please ask me first
Evelyn L. Pandora
Kanji

エブリン L. パンドラ

Rōmaji

Eburin L. Pandora

Alias

Queen Eve (エブリン 王妃, Eburin Ōhi)

Characteristics

Race

Human

Gender

Female

Hair Color

Pink

Eye Color

Pink

Professional Status

Affiliation

Kingdom of Sin

Occupation

Queen of Sin

Partner(s)
Base of Operations

Sin

Personal Status

Status

Alive

Evenlyn L. Pandora (エブリン L. パンドラ, Eburin L. Pandora), full name Evelyn Lilith Pandora (エブリン リリス パンドラ, Eburin Ririsu Pandora), is the current Queen and ruler of the land of Sin, a country located in the southernmost part of the peninsula known as Ishgar. She ascended to the throne after the death of her father, and since then, Sin has been ruled under her just authority. Due to ruling with a fair hand, Evelyn is much beloved by her people, revered as Queen Evelyn (エブリン 王妃, Eburin Ōhi).
Appearance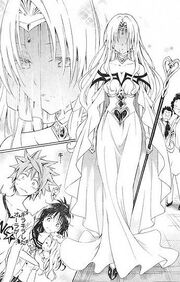 Personality
History
Trivia
Evelyn name is composed of three women in mythology who have commited some kind of sin or crime.

Eve, from the Book of Genesis, who ate the forbidden fruit from the Forbidden Tree, resulting in her and Adam's banishment from the Garden of Eden.
Lilith, the first woman before Eve, who spoke God's true name, "Yahweh".
Pandora, from Greek mythology, who openned a jar, releasing all evils onto humanity.

As the Queen of a country named "Sin", Evelyn essentially embodies each of the Seven Deadly Sins in one way or another, positive or negative.
Community content is available under
CC-BY-SA
unless otherwise noted.