This article, Falcon, is property of Morty16.
This page, Falcon, is currently under construction. Please bear with the changes made by the author.
falcon
Kanji

ファルコン

Rōmaji

Farukon

Alias

Blood Talon

Characteristics

Race

human

Gender

male

Age

19

Height

181cm

Weight

68kg

Hair Color

Auburn

Eye Color

Brown

Professional Status

Affiliation

Panther Claws
Occupation

mage

Previous Occupation

Martial arts student

Partner(s)

Personal Status

Status

active

Magic

Magic
Falcon (ファルコン farukon ) is a mage, friend of Morty
Appearance 
In terms of physical appearance he's well built, has alot of muscular definition, and has brown hair and light brown eyes. he also has a relaxed expression on his face. As for his clothing, surprisingly, he wears alot of costumes that expose his skin; His usual attire consists of an open orange and green shirt, He has a well he wear a jeans.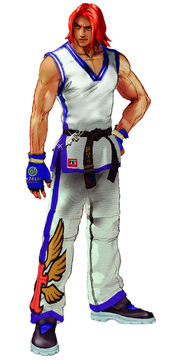 Personality
Falcon is a hot-headed, impulsive person who enjoys fighting. He sometimes likes to boast about his skills and strength. He still holds his focus on his opponents to not lose himself in his pride. He is very rebellious and does not like to obey orders, he is always in truble. But he also has a strong sense of determination to fight his rivals.
History
Falcon is student of martial arts who works out in his Master'dojo, he always get in fights, he started to partecipate in tournaments, he learned High speed magic and slowing magic from other mages. One day he casually bump with Morty, since that day they became his friends and rivals.
Magic Abilities
High speed:
Falcon Heavenward: Falcon uses his speed to rush to his opponent and lands a powerful kick. This attack can send opponents flying.
Speed Tornado: Falcon creates a tornado by using high speed and turning around.
Electric Speed: By using high speed he creates electricity around him.
Electric punch: Falcon hits the target with an electric punch.
Electric kick: Falcon hits tha target with an electric kick
Tornado kick: Falcon does a powerful kick that creat a powerful wind/tornedo that can send opponents flying.
Slowing Magic:
Motor (モータ Motā): Combining hand-to-hand combat with Slowing Magic, Falcon rushes towards their opponents, then jumps into the air upside down and starts rotating, beating everything around them with their legs.
Gear Change: Red Zone: Falcon's Magic seal becomes red and he can travel at their maximum speed; in other words, he delay the rate of how others perceive time even further, allowing him to "move faster".
Falcon posses Immense Speed and Immense Strength, He is also a Master Hand to Hand Combatant.
Gallery
Community content is available under
CC-BY-SA
unless otherwise noted.