Gisen Harune is an created by airascarlet19.Please do not edit this article without my permission. If you would like to use this article in any way, see here.
Gisen Harune
Kanji

春根 義戦

Characteristics

Race

Human

Gender

Female

Age

18

Height

5'4

Birthday

October 10

Hair Color

White

Eye Color

Teal

Blood Type

B

Professional Status

Affiliation

Fairy Tail Guild

Guild Mark Location

Right Bosom

Occupation

Mage

Previous Team

Personal Status

Status

Active

Relative(s)

Serena Harune (older sister)

Magic

Magic
Weapons

Scissor Blade

Gisen Harune (春根 義戦 Harune Gisen) is the member of Fairy Tail Guild. She's younger sister of Serena Harune.
Appearance
Gisen has short white hair and teal eyes. Likes her sister, she has large breast with a curvaceous body.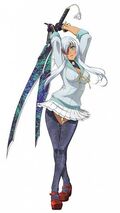 She wears a light blue blouse, white skirt, with black gloves, black leggings and red shoes. Her guild mark located at right bosom .

Personality
History
Magic & Abilities
Ice Magic to manipulate or create the element of ice.
Iced Shell (絶対凍結・アイスのドシェル Zettai Tōketsu: Aisu no Sheru) Gisen also has knowledge of this forbidden, extremely dangerous and powerful Magic, and has expressed the certainty that he could use it, if her were forced to.[365]
Ice-Make(氷の造形魔法, アイスメイク, Aisu Meiku) A form of Molding Magic that allows the user to create ice at his will and to shape it.
Ice-Make: Block The user uses one hand to create a big block of ice that is able to block incoming attacks.
Ice-Make: Shield (シールドShīrudo): Gisen creates a large shield made of ice in front of her, whose shape is vaguely reminiscent of a flower, which shields everything behind it.
Ice-Make: Hammer (ハンマーHanmā): Gisen creates a large ice hammer that floats above her opponent before dropping on them with great force.
Wind Magic(風魔法 Kaze Mahō) enables its to generate wind, as well as to manipulate the wind around her at she will.
Sword Magic(剣の魔法 Ken no Mahō) A Magic in which the user utilizes swords for various Magic abilities and effects.
Community content is available under
CC-BY-SA
unless otherwise noted.