"Life, Liberty, and the Pursuit of Property: Capitalism 101."

This article, Halfrida Sommer, belongs solely to The Great Swordsman and cannot be utilized without his permission. Otherwise, you'll find yourself in pieces. If you wish to use the contents of this article, make a concise request on his page.
"Peacekeeper? It's my duty to guide the next generation and to keep them from trying to bash each others heads in. Huh. I guess I am a peacekeeper. Though all I want to see is this guild grow and reach its full potential. I know that sounds cliché but at the end of the day it is what I desire. Surely we can make that happen."
— Halfrida and her Guild
Present

 | 

Past

Halfrida Sommer
Kanji

ハルフリダ ソマー

Rōmaji

Somā Harufurida

Alias(s)

Peacekeeper (平和守り, Heiwamori)

Characteristics

Race
Gender

Female

Age

31

Appearance

Hair Color

Ochre

Eye Color

Green

Skin Tone

Fair

Height

175.26 cm 5'9 ft.

Weight

60.33 kg 133 lbs.

Professional Status

Affiliation

Northern Light

Occupation

Personal Status

Marital Status

Single

Powers & Equipment

Magic
Equipment

Elivagar (三角波, Sankakunami, lit. Stormy Waves)
"Law and Order HS."

Halfrida Sommer (ハルフリダ ソマー, Somā Harufurida) is a member of the Northern Light guild. Serving as its strongest non S-Class Mage, she has earned the epithet Peacekeeper (平和守り, Heiwamori) for her efforts in maintaining the peace between the unruly members of her beloved guild, serving as the cool head in tense situations. Because of this, Halfrida is relied upon by Julianna as a warden of sorts, due to the guildmaster's laxness. Often exasperating Halfrida as she believes the GM should lead by example. Regardless, she is respected by all mages within Northern Light as a level-headed figure responsible for guiding the next generation.
Appearance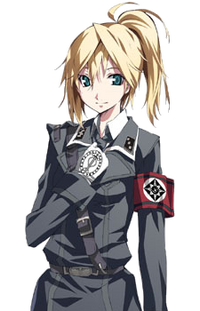 Personality
History
Equipment
Elivagar
(三角波,
Sankakunami
, lit.
Stormy Waves
):
Magic & Abilities
Physical Prowess
Expert Hand to Hand Combatant:
Limberness and Dexterity:
Exceptional Durability and Speed:
Magical Prowess
Sizable Magical Presence
:
Palm Magic
Palm Magic (平手魔法, Hirate no Mahō):
Lightning Magic
Lightning Magic (雷系各種魔法, Kaminari Kei Kakushu Mahō): This serves as the primary means of Halfrida's combative capabilities. Serving as her most effective fighting style in battle...
Lightning Punch: Halfrida creates an orb of lightning around her fists before punching the target, increasing the resulting damage and causing potential nerve damage, depending on the amount of the lightning magic stored in each fist.

Fist of the Lightning Dragon:
Sword Magic
Sword Magic (剣の魔法, Ken no Mahō):
Trivia
Her image source is based upon Beatrice from Dies Irae.
Community content is available under
CC-BY-SA
unless otherwise noted.