Hamley
Kanji

ハムリー

Rōmaji

Hamurī

Characteristics

Race

Human

Gender

Male

Birthday

March 1st

Hair Color

Silver

Eye Color

Blue

Professional Status

Affiliation

Quatro Cerberus

Occupation
Team

Team Quatro Cerberus

Partner(s)

Personal Status

Status

Active

Magic

Magic
Hamley
(ハムリー
Hamurī
) is a
Mage
of the
Quatro Cerberus
Guild participating in the
X806 Grand Magic Games
.
Appearance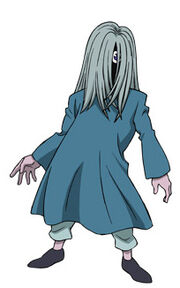 Hamley is an average sized man with a noticeably small build and pale skin with a light tint of purple. He has long, waist length, silver hair which covers his entire face, save for his left eye, which is rather large and blue in colouration.
He has shown two outfits during the games: his first being a long, blue robe which extends past his knees and under it he wears lighter blue trousers and black shoes. His second outfit is just as simple, a white robe with white shoes and trousers.
Personality
Synopsis
Grand Magic Games arc
Magic and Abilities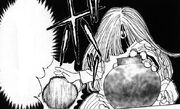 Cloning Magic (クローニングマジック Kurōningu Majikku): Hamley's magic allows him to create magical clones of either himself or others and unlike thought projections, these clones do not waver, although has only been shown using this once. His main usage of this magic is to clone objects that he touches. He must be touching the object with one hand in order for the magic to work.
Rock Shower (ロックシャワー Rokku Shawā): By holding a rock and jumping high into the air, Hamley is able to clone it and send a shower of cloned rocks toward the target from the air.
Enhanced Agility: Hamley is incredibly agile and is able to quickly evade most attacks thrown his way such as Jysetha's plants. He was also able to quickly scale the wall of of the battlefield in order to achieve a different vantage point of the fight.
Incredible Eyesight: Despite one of his eyes being hidden by his hair, Hamley has shown to have incredible eyesight, he was able to see small indents in the wall of Domus Flau from the other end of the arena.
Battles & Events
Trivia
Community content is available under
CC-BY-SA
unless otherwise noted.