Hello everyone, this birthday blog is a special one due to it being the birthday of our own admin of magic: Perchan. Many of us have had some form of interaction with per on some occasion, be it online or in real life, but the one thing we all gained from meeting her is a friendship. Perchan is many things, goofball, spaz, lazy and those are her good traits. But the one thing she shows more than anything is humility, never bragging or showing off at all. I am proud to wish our admin perchan a great birthday and hope she has many more to come in the future.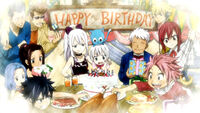 .
Guild-Ace (Mmmm check plz) 02:51, September 10, 2014 (UTC)
Community content is available under
CC-BY-SA
unless otherwise noted.