Sana

Spirit Form
Name
Sana
Kanji
癒す
Rōmaji
Iyasu
Characteristics
Race
Elemental Spirit/Celestial Spirit
Birthday
November 12
Gender
Female
Eyes
Blue
Hair
Light Blue
Professional Status
Affiliation
Paper Planes
Occupation
Healer
Team
Team Rose
Partner
Rose Sunrock
Personal Status
Alias
Heal Spirit
Magic
Magic
Heal Magic
Transformation
Note: This page or section is currently under construction. The author(s) are very sorry.
The
Elemental Spirit
known as the
Heal Spirit
 is under a contract with
Rose Sunrock
. She, however, prefers her real name,
Sana 
(癒す
Iyasu
). She took the form of a clumsy human girl who worked at the hospital as a volunteer and chose to travel with Rose as she was the only one to figure out her secret.
Appearance
Personality
Relationships
History
Synopsis
Magic and Abilities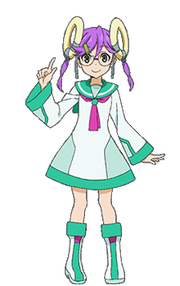 Natural Abilities
Magical Abilities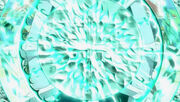 Regeneration: Sana, being a Heal Spirit, has the unique abilitiy of healing herself. The cleaner and fresher the air, the faster she can rejuvenate.
Transformation: In order to remain hidden on Earthland, Sana uses transformation to turn into a younger girl. The human name she has chosen is June, after her previous master.
Invisibility: Because Sana has no way of going on the offensive, she has developed the abilities to turn invisible in her Spirit Form.
Magic
Healing Magic: Sana has extremely high Healing Magic abilities, said to rival those of a Dragon and Phoenix themselves.
Puredrop: Sana forms a light blue willow-o'-the-wisp which she can control. When the wisp makes contact with anything organic, a small blue pulse radiates from the focal point, healing and purifying the object. Trees, humans, spirits, animals, and even water are just a few of the things Sana's magic can touch. This spell was powerful enough to restore the Forest Phoneix Floragon to her natural powerful state.
Trivia
Sana's Human Form is based off of Kuguru Uki from the Future Card: Buddy Fight series.
Sana is Latin for Heal.
According to an article featuring Sana in the Sorceror Weekly: Bosco Edition ...

If compared to an animal, Rose considers herself to be a Dolphin.
Her dream occupation is to be a doctor.
Her favorite food is Whip Cream.
Her ideal type is a genius.
Her stats are as shown as 
| | | |
| --- | --- | --- |
| Offense | | 0/5 |
| Defense | | 0/5 |
| Speed | | 5/5 |
| Intelligence | | 5/5 |
| Healing | | 6/5 |
Community content is available under
CC-BY-SA
unless otherwise noted.