"I did not forget you, Belial. All these years, I just...sat and waited. Oh so patiently, did I wait, for the day we would meet again. It was...long and tiring. But like you, I raised my son to be a warrior, a monster who will tear everyone apart. It is...the new generation, as they say. Now...who will be the king of this generation? Will my son inherit that as well from his dear old man?"

— Helel taunting Marx Dagonet, during their reunion after four centuries
Helel
Kanji

ヘリール

Rōmaji

Herīru

Alias

Black King (黒王, Kuroō)
Devil Hound of the Underworld (魔猟犬の極道, Maryōken no Gokudō)

Characteristics

Race
Gender

Male

Age

400+

Hair Color

None

Eye Color

Red

Professional Status

Affiliation
Occupation

Commander of the Fallen Army

Previous Occupation

Leaer of the Fallen Army

Team

Personal Status

Status

Alive

Relative(s)

Magic

Magic
Weapons

Falling Heaven (墜落天, Tsuirakuten)
Helel (ヘリール, Herīru lit. The Shinning One/Bringer of Light) is a legendary Demon, known since the time of the Dragon Civil War as the fearsome leader of the Fallen Army, an all-Demon army composed hundreds upon hundreds of soldiers under his command, causing him to be feared as the Black King (黒王, Kuroō), and the Devil Hound of the Underworld (魔猟犬の極道, Maryōken no Gokudō), due to his distinct appearance, having been one of the two greatest forces of the demon race, outdone only by the Thirteen Calamities.
Formerly an enemy and rival of Belial, the two often clashed, but in the end, Helel was the victor, resulting in Belial's army being decimated and Belial being left for dead. After the war, Helel and his army went into hiding, much like the rest of the demon race, training a new generation of soldiers for the Fallen Army, with Helel retiring and passing the torch to his son, Balor, to lead the Fallen Army and fulfill their plans of freeing the Four Archfiends, and subsequently, the Grand Demon as well. He now functions as the Commander, the second-in-command overall.
Appearance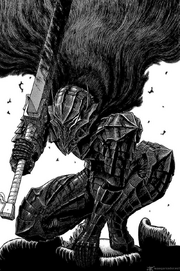 Personality
Equipment
Falling Heaven
(墜落天,
Tsuirakuten
):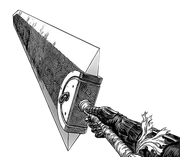 Powers & Abilities
Physical Prowess
Magical Abilities
Trapezohedron
Trivia
Helel is another name for Lucifer, particulary before becoming a Fallen Angel. This is referenced with the name of Helel's sword, Falling Heaven.
Community content is available under
CC-BY-SA
unless otherwise noted.