This page Hogotsu Sezoku is the sole property of The Dawn Angel.
Permission is required to reference, or modify this article in any manner with the exception of collaboration articles, whereas terms listed above are unserviceable.
X791

 | 

X796

Hogotsu Sezoku
Kanji

保護つ・世俗

Rōmaji

Hogotsu Sezoku

Alias

Robin Hood (健気の盗賊, Robin Fuddo; lit. "Heroic Thief")

Characteristics

Race
Gender

Male

Age

19-23 (Seekers)

Height

171 cm

Weight

70 kg

Birthday
Hair Color

White

Eye Color

Blue

Blood Type

O

Professional Status

Affiliation

Dark Wings

Occupation
Previous Occupation
Team

Personal Status

Status

Active

Relative(s)

Yomi Tenmajin (mother)
Raizanrou Tenmajin (father)
Kagari Tenmajin (older brother)
Izayoi Tenmajin (older brother)
Asami Tenmajin (older sister)

Counterpart

Magic

Magic
"The lightning bolt that strikes the earth will save the weak."

Hogotsu Sezoku (保護つ・世俗, Hogotsu Sezoku) is a thief that hails from Marevicus—the "Seaward City of Corruption" (汚職の方海市, Oshoku no Hōmishi). Having been trained by a mysterious man out of pure interest, Hogotsu acted as the leader of Night Raid—earning a reputation within the city as the notorious Robin Hood (健気の盗賊, Robin Fuddo; literally meaning "Heroic Thief") for his countless thefts. However, during what would have been the team's greatest robbery, they were betrayed by their own member Karasu Nisetomi who believed that Tenchi Jitsuzon was responsible for the death of his parents. This treachery leads to the demise of said comrade and the revelation of Hogotsu's identity as Robin Hood. With the blessing of Genki Denreisha, he travels across Earth Land to avenge the death of his comrade.
As it turns out in later arcs, Hogotsu is a member of the Tenmajin Clan—a family of ancient warriors who reside in the hidden Takamagahara Village. As the youngest child of Raizanrou Tenmajin, he is one of the potential candidates to succeed after his father for the position of leader. Referred to as "Susanoo" (須佐能乎, He With The Ability to Help By All Means) by his mother due to his desire to assist people in need, Hogotsu makes ample usage of Lightning Magic in conjugation with Imperial Embodiment to protect those he considered a part of his family—earning the moniker of Thunderous Roaring Wolf (轟音豺狼, Gōon Sairō).
Appearance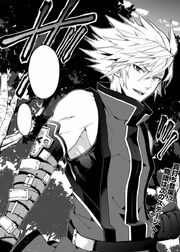 Personality
History
Synopsis
Main article: Fairy Tail: Seekers
Magic and Abilities
Natural Abilities
Master Hand to Hand Combatant:
Immense Speed and Reflexes:
Enhanced Strength:
Incredible Endurance and Pain Tolerance:
Magical Abilities
Lightning Magic
(雷系各種魔法
Kaminari Kei Kakushu Mahō
) is a
Caster Magic
and form of
Elemental Magic
that utilizes the element of
lightning
, commonly referred to as the "
wrath of God
" (天罰,
Tenbatsu
).
Elementalization
(元素化,
Gensoka
; lit. "Becoming the Element")
Trivia
Quotes
Behind The Scenes
Community content is available under
CC-BY-SA
unless otherwise noted.