This article Hubert, is the sole property of Ashy and as such, please do not edit this article without my permission. If you wish to use or change this article in any beneficial way, please discuss with me...and be judged!
"The red bat fluttering in the night."
—Ashy

Hubert (ヒューバート, Hyūbāto) is a mercenary-for-hire and a wanderer across Ishgar with his partner, Hanskedo. Both were born from the malicious energy of Demons a considerable while ago as Dränera. While initially attempting to be free of their fate, they soon learned to accept things as they were and have blended in with the life of common Mages and society.
Appearance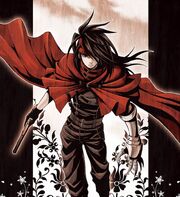 Personality
History
Synopsis
Magic and Abilities
Trivia
Quotes
Behind the Scenes
Community content is available under
CC-BY-SA
unless otherwise noted.