This article, Ichi, is property of FbAddict.
Ichi
Kanji

一

Rōmaji

Ichi

Characteristics

Race

Doll

Gender

Male

Hair Color

None

Eye Color

Dark

Professional Status

Affiliation
Partner(s)

Personal Status

Status

Deceased

Magic

Magic
Weapons

Bow & Arrows
Ichi (一 Ichi) is a doll belonging to Zebedee Zoltikk. He partners alongside Nii and San.
Appearance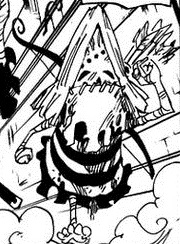 San is a very small, tribal-like doll who's height reaches about knee-height. He has a long, triangular head with red skin, slanted eyes, bandaged limbs and a series of spots on his forehead. On his forehead there in a long, teepee-esque hat made of straw amd has a tatty piece of cloth stitched to his face. He wears a striped shirt and carries a bow & quiver on his back.
Personality
As with his fellow dolls, Ichi shows almost no individual traits, Ichi seems to be the quietest out of the three.
History
Synopsis
Magic and Abilities
Bow Magic (弓の魔法 Yumi no Mahō): Ichi is able to pour his own magic energy into his bow in order to increase it's firing capacity and accuracy.
Arrow Magic (一矢魔法 Isshi Mahō): Using his own arrows in order to attack, Ichi imbues them with his own magical energy and they can then have a variety of effects.
Unnamed Explosion Arrows: An unnamed technique which fires up to two arrows simultaneously which can cause a miniscule explosion on impact.
Unnamed Poison Arrow: Mentioned, not physically seen, it presumably shoots a poison-tipped arrow.
Equipment
Bow & Arrows: In order to utilize his bow and arrow magics, he must make use of a bow and a set of arrows, which he carries on his back.
Trivia
His appearance is based on Bao from One Piece.
His name means "Three" in japanese.
Community content is available under
CC-BY-SA
unless otherwise noted.