"Even if you beg for mercy, I won't listen!"


This article Isabella Yew, is the sole property of CPU Noire and as such, no user may edit this article without explicit permission from the aforementioned creator. If you wish to use this article in any way, please ask me first
Isabelle Yew
Kanji

イザベラ・ュゥ

Rōmaji

Izabera Yū

Alias

Witch Doctor of Fresh Wounds (生傷の祈祷師 Namakizu no Kitōshi)
Sister Isabella (シスター・イザベラ Shisūta Izabera)

Characteristics

Race

Human

Gender

Female

Age

18

Hair Color

Blonde

Eye Color

Green

Blood Type

O−

Professional Status

Affiliation

None

Previous Affiliation

Church

Occupation

None

Team

None

Partner(s)

Unknown

Base of Operations

None

Personal Status

Status

Active

Counterpart

Helena (created in reference)

Magic

Magic

Healing Magic

Image Gallery

Isabella Yew (イザベラ・ュゥ Izabera Yū), formerly referred to as Sister Isabella (シスター・イザベラ Shisūta Izabera). Due to the inadvertently lethal nature of her magic, which was meant to heal but instead reopens old wounds and worsens existing ones, Isabella was given the name Witch Doctor of Fresh Wounds (生傷の祈祷師, Namakizu no Kitōshi). She currently resides in exile, shunning the world that shunned her, out of fear of harming another person.
Appearance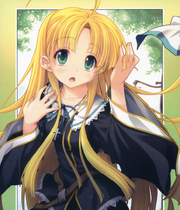 Isabella's appearance is that of a deceptively young girl, appearing to be more in her early teens than the young adult she actually is. She possesses bright green eyes, and long, waist-length blonde hair. Her general attire is the same clothing she wore back during her time as a nun; a dark robe with white and blue lining, a brown satchel tied to her waist, and a similar coloured white veil. Around her neck she wears a cross, the symbol of her faith. Her footwear consists of brown boots.
Personality
History
Isabella is is a former nun, stationed at a church in the far reaches of the Pergrande Kingdom, the largest country in the entirety of Earth Land. The church had a dual function as a medical facility, and Isabella became skilled enough in her the healing arts to become one of the foremost physicians in the church. However, a certain event led to a backlash within her magic, causing magic that was meant to close wounds to reopen them instead. This backlash had a horrible impact on Isabella, and led to people throughout the country to be fearful of her abilities, refusing to come to her for treatment, even in times of war.
She was eventually given the name the Witch Doctor of Fresh Wounds (生傷の祈祷師, Namakizu no Kitōshi). Being shunned by others, due to their fear, heavily impacted her own self-confidence, which only worsened her skills, causing her magic to become ever more skilled at taking lives rather than saving them. Due to her irrational fear of killing others, Isabella fled the church, and the kingdom, choosing to go into hiding rather than be persecuted by her former peers.
Magic & Abilities
Magical Abilities
Physical Abilities
Trivia
Isabella's surname, "Yew", is in direct reference to the Yew tree, which is believed to hold a special connection in regards to life and death. Isabella's magic, which essentially borders the domain of both dimensions, is similar in this regard.
Her blood type, 'O', is in direct reference to her status as a medical professional: out of all types, 'O' is the universal donor, and can be transfused into anyone. In a tragically ironic sense, Isabella's blood has the potential to save more lives than she can.
Community content is available under
CC-BY-SA
unless otherwise noted.