This article, Iskariot, traces its origins back to Nearó, it would be highly unwise to meddle with his creation. Should you wish to use or change it, then you must seek his Permission
"We were servants, yet we had none to serve. Some craved meaning, yet it never existed. Some sought a home, yet we've never had one. Our race could be more than just pawns on a chessboard. I will not serve he who left us, I will not stand by and wait for a sign nor will I hide from a world that could fear us. Should the demons not see this potential, then they should disappear alongside the others."
— Iskariot declares his independence.
Iskariot
Kanji

イスカリオット

Rōmaji

Isukariotto

Alias(s)

Lord of Purgatory (迫害の主 Hakugai no omo)
The Hidden King (隠しキング Kakushi kingu)
Sealgair (ハンター Hantā)

Characteristics

Status

Unknown

Race
Gender

Male

Age

400+

Appearance

Hair Color

Silver

Eye Color

Turquoise

Skin Tone

Light

Height

6'0

Weight

72 kg

Professional Status

Affiliation

Purgatory

Previous Affiliation
Occupation

Leader of Purgatory

Previous Occupation

Subordinate

Base of Operations

Unknown

Powers & Equipment

Curse

Daemon Curse
Animi Motus
Vereor Nox
Whisper's Curse
Chaos Curse
Praeda
Lucid Dream
Evello
Iskariot (イスカリオット Isukariotto):
Appearance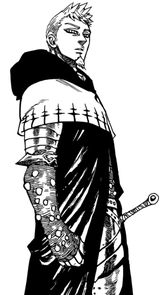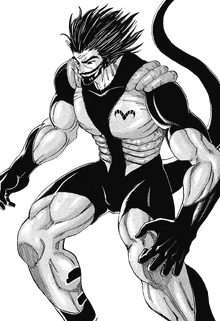 Personality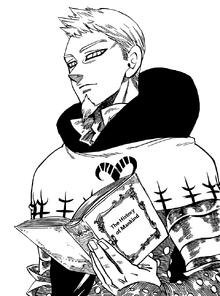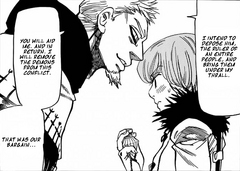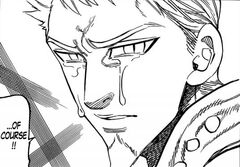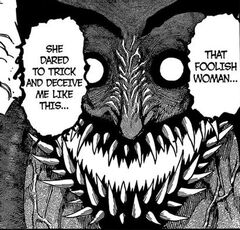 History
Abilities
Ways of Combat
Master Swordsmanship Specialist: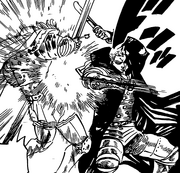 Master Hand-to-Hand Combat:
Physical and Mental Abilities
Superior Observational Skills:
Master Tactitian and Analyst:
Monstrous Speed:
Magical Abilities
Enormous Curse Power:
Curses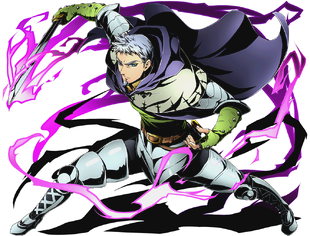 Equipment
Relationships
Quotes
Trivia
Iskariot's Human appearance is based off Hendrickson from the Nanatsu no Taizai series.
Iskariot's Demon appearance is based off Acacia after consuming Neo Toriko series.
Community content is available under
CC-BY-SA
unless otherwise noted.