Note: This page or section is currently under construction. The author(s) are very sorry.
Ivy Moonstone (アイビー月の石 Aibī tsuki no ishi) is a S-Class Mage and a member of the guild, Paper Planes located in Timber City, Bosco. She is the Edolas Counterpart of Rose Sunrock. She is known for her Magic Suit. She is the older sister of Redd Moonstone
Appearance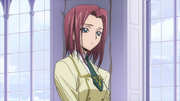 Ivy has bright red hair and blue eyes. In school she would have her hair combed down with her school uniform, but when fighting or in her own privacy, she would have her hair spiked up. She wears a magenta suit that zips up to her neck.
Her guild insignia is on her left shoulder blade.
Personality
History
Synopsis
Relationships
Equipment
Magic Suit
: Ivy's Magic Suit is powered by absorbing Eternano from the air to power the machine, and then releasing it to propel itself. It has a variety of functions, such as storing information or picking up large quantities of Eternano.
Magic and Abilities
Natural Abilities
Magical Abilities
Magic
Trivia
Ivy Moonrock was based off of Kallen Kozuki from the Code Geass series.
According to an article featuring Ivy in the Sorceror Weekly: Bosco Edition

If compared to an animal, Ivy considers herself to be a Fox.
Her dream occupation is to be a Inventor.
Her favorite food is Red Peppers.
Her ideal type is a bad-boy.
Her stats are as shown 
| | | |
| --- | --- | --- |
| Offense | | 4/5 |
| Defense | | 4/5 |
| Speed | | 4/5 |
| Intelligence | | 3/5 |
| Riding | | 5/5 |
Community content is available under
CC-BY-SA
unless otherwise noted.