This article Kain, is the sole property of Ashy and as such, please do not edit this article without my permission. If you wish to use or change this article in any beneficial way, please discuss with me...and be judged!
"The fox bares its blood-drenched fangs."
—Ashy
Kain
Kanji

禍因

Rōmaji

Kain

Alias

War Fox (戦狐, Senko)

Characteristics

Race

Human

Gender

Male

Age

21

Height

178cm

Weight

70kg

Hair Color

Brown

Eye Color

Brown

Blood Type

B+

Professional Status

Affiliation
Occupation

Myst Kagekyo's right-hand man

Previous Occupation

War Criminal

Partner(s)

Personal Status

Status

Active

Magic

Magic
Weapons

Senjin (戦刃, War Blade)

"War Fox" Kain (戦狐の禍因, Senko no Kain) is a former participant in Seven's civil war as a part of the government faction's special forces, becoming infamous for his extraordinary cruelty and intelligence as he dabbled in countless war crimes. Prior to his scheduled execution, Kain seemingly fled the country. Eventually, he would encounter Myst Kagekyo and, underneath closed circumstances, is now her so-called right-hand man.
Appearance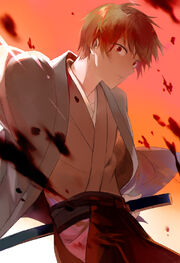 Kain bears the appearance of a youthful, almost harmless man with child-like features — especially ironic given his criminal record. Kain has rather plain traits for the most part, with medium-length light brown hair left mostly unstyled and no particular facial features or defined structure to make note of. Although most commonly noted for his blank facial expressions, when he is sufficiently provoked, Kain is noted quite markedly for the intensity of his crimson eyes. They are regarded as almost beast-like and, according to Myst, "will drag you into the current of a bloody river." In a similar vein to his facial features, Kain's physical stature and physique is nothing particularly of note. He is slightly shorter than the average male of his age, and is shown to be quite lean. Given his vast involvement in combat, however, it is clear that he holds a significantly muscular build when he isn't under the guise of his loose clothing.
Given the War Fox's priorities, Kain doesn't pay much attention to his fashion choices. He prefers clothing that is easy to move in and doesn't hinder his combat potential. As such, he is often garbed in a simple pastel brown kosode, darker hakama and a plain blue haori should it be cold. At his waist, he ties his hakama with a simple, dark obi, fixing his blade at its left side for ease-of-access. Overall, Myst describes Kain as "awfully plain" when compared to herself, but also admits that he's "also awfully murderous, so it balances out."
Personality
Relationships
History
Synopsis
Magic and Abilities
Illusion Magic (幻影魔法 Genei Mahō): The art of weaving illusions is not a simplistic one. It requires a cunning mind and an equally adept control over the Ethernano they absorb and exert from their being. Kain is notable...
More Coming Soon...
Trivia
Quotes
Behind the Scenes
Community content is available under
CC-BY-SA
unless otherwise noted.