This article, Keiko Sensei, is property of Morty16.
This page, Keiko Sensei, is currently under construction. Please bear with the changes made by the author.
Keiko Sensei
Kanji

慶子 先生

Rōmaji

keiko sensei

Alias

Flame Master

Characteristics

Race

human

Gender

male

Age

25

Height

181cm

Weight

78kg

Birthday

june 13

Hair Color

black

Eye Color

brown

Blood Type

O

Professional Status

Affiliation

Panther Claws
Occupation

mage

Previous Occupation

martial arts master

Partner(s)

Magic

Magic
Weapons

katana
Keiko Sensei an S-class mage in Panther Claws. He is also a martial arts master and taught Morty, Falcon and Yuuta to fight.
Apparence
He is well built and tall, he has black hair and brown in the front, he wears a black and red training outfit, sometimes when he goes in a work he wears a black red samurai outfit.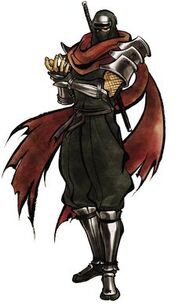 Personality
Keiko Sensei is always calm and always in training,he can gets angry easily when interrupted during his training, but the he calms down, he is helpful and ready to help his comrades in training.
History
Magic Abilites
Lightning Magic: Keiko posses lightning magic,he can control electricity, can create electric shocks and electric ball, he can even disappear and appear.
Spells
Dendo Kick: (電動キック dendo kikku) he can give a powerful electric kick that can paralyze the opponent. He can even knock down the opponent with a single kick.
Tornado: (トルネー ドTorunēdo) he can summon a big tornado with electric shock and attack opponents.
Fire Magic Spells
Fire balls: (ファイアボール Faiabōru)  he can summon fire ball and throw them to the opponent.
Explosion: (エクスプロージョン Ekusupurōjon) Keiko holds his hands together and a fire sphere gathers on his palm. When fired, a powerful beam is expelled from the his hand. 
Master Hand To Hand Combatant: Keiko is a master of many martial arts, he can take down many persons without using his magic.
Enhanced Reflexes: Keiko possesses fast reflexes, having been capable of dodging powerful attacks.
Enhanced Speed: Keiko have good abilities in speed, that because of his training and his ninja skills.
Community content is available under
CC-BY-SA
unless otherwise noted.