This article, Kuma (Exceed), is the property of JustinWong
Note: This page or section is currently under construction. The author(s) are very sorry.
"I am INVINCIBLE!"
— Kuma showcasing his headstrong mindset.
"Cuteness in a headstrong bear. I mean Exceed."

Kuma
Kanji

クマ

Rōmaji

Kuma

Alias

Loudmouth Bear (おしゃべりクマ Oshaberi Kuma

Characteristics

Race

Exceed

Birthdate

Unknown

Birthplace

Edolas

Gender

Male

Age

5

Height

2'9"

Weight

49.5 lbs

Eye Color

Black

Hair Color

Yellow

Unusual Features

Blue ears

Professional Status

Affiliation
Previous Affiliation

Extalia

Occupation

Adventurer

Previous Occupation

Extalia Engineer

Partner
Base of Operations

Extalia (formerly)

Personal Status

Status

Active

Alignment

True Neutral

Magic

Magic
Signature Skill

Human Mode Shift

Kuma(クマ Kuma) is an Exceed and former engineer of Extalia. He is the companion and best friend of Suigetsu, a lone adventurer who strives to regain his lost memories of his previous life. Kuma met Suigetsu at Tenrou Island, where they made an oath to be life-long companions and escaped together. He was one of the one hundred Exceed eggs sent to Earth Land, and crash-landed on Tenrou Island.
Appearance
Exceed Form
Unlike his fellow Exceed companions, Kuma takes the appearance of a little bear, hence the name given to him by the Exceed Queen. Normally, he dons an attire consisting of a red jacket with a zipper on top of it, along with a white shirt inside it. He also dons a pair of yellow trousers, and has a distinguishing button on his shirt. This actually grants him access to his Human Mode Shift by a press of the button. 
Human Mode Shift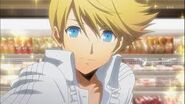 While in his Human Mode Shift, Kuma takes the form of an astonishingly handsome young man, whose luxurious attire consists of a disco-themed white suit and a pair of white jeans, along with a pair of pitch black slim boots. He has blue eye pupils, while his skin tone is extremely fair. His messy blond hair is left naturally swaying to the left side.
Personality
Kuma is an extremely headstrong, childish, impatient, not detail-oriented and aggressive individual who stays loyal only to the likes of his life-long companion, Suigetsu. Despite his childish tendencies, he has a natural tendency to make promises and never break them, and has a self-imposed punishment by breaking those promises. He is also extremely kind and good-hearted, as seen when he willingly helped the other prisoners at Tenrou Island who were imprisoned by the corrupted independent Rune Knights.
While in his Human Mode Shift, he disguises himself as an arrogant, bubblish, charismatic and mysterious individual who emphasizes extreme confidence in his own abilities. He has an extreme tendancy to dance whenever he is in a good mood, and almost never ceases to draw attention from others with his good looks.
History
Synopsis
Powers and Abilities
Natural Abilities
Magical Abilities
Trivia
He is based off Teddie from Persona 4.
Community content is available under
CC-BY-SA
unless otherwise noted.