This page Kur is the sole property of The Dawn Angel.
Permission is required to reference, or modify this article in any manner with the exception of collaboration articles, whereas terms listed above are unserviceable.
Kur
Kanji

クアル

Rōmaji

Kuaru

Alias

Underworld Dragon (黄泉の竜, Yomi no Ryū)
Wicked Dragon King (邪竜の王, Jaryū no Ō)

Characteristics

Race
Gender

Male

Age

450+

Height

38'0"

Eye Color

Red

Professional Status

Previous Affiliation
Previous Occupation

General
Dragon King Candidate
Member of Holchei Drakon

Personal Status

Status

Deceased

Relative(s)

Magic

Magic
"It is madness for sheep to talk peace with a wolf."

Kur (クアル, Kuaru) was a Dragon known as the Underworld Dragon (黄泉の竜, Yomi no Ryū) who participated in the Dragon King Festival, being often regarded as a legend. Having unprecedented power amongst the generals within the Dragon Faction, Kur was considered as a potential candidate to inherit the position of being the next "Dragon King" (竜の王, Ryū no Ō). However in the midst of the Dragon King Festival, Kur was stricken down by his fellow kin—betrayed by those who served alongside for decades. Feeling nothing but rage and hatred towards those he once believed were his comrades, Kur clung to life as he swore revenge on the king he had served, leading to him allying himself with the Holchei Drakon in order to usurper the position of Dragon King.
Near the conclusion of the Dragon King Festival, Kur emerged alongside his newfound allies as he confronted the Dragon King, immediately challenging to mortal combat. After a grueling battle, Kur emerged as the victor as he proclaimed himself as the Wicked Dragon King (邪竜の王, Jaryū no Ō), a title befitting for one who lost himself to his own vices. However despite this victory, Kur's newfound reign was short-lived as he found himself overwhelmed by the combined efforts of the other factions as they sought to destroy him after witnessing the gruesome demise of the previous Dragon King.
Appearance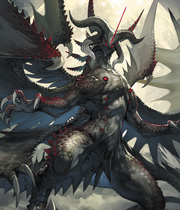 Personality
History
Magic and Abilities
Natural Abilities
Magical Abilities
Dragon Slayer Magic
Trivia
Community content is available under
CC-BY-SA
unless otherwise noted.