This article, Liliara Muirgen, is the property of Dreams of Serenity and should therefore not be edited without the owner's permission. Unauthorized edits will be frowned upon.
"To err is human, to forgive, divine."
— Alexander Pope
Liliara Muirgen
Kanji

リリアラ・ムイルゲン

Rōmaji

Ririara Muirugen

Alias

Saint of the Delinquents (聖女のヤンキー, Seijo no Yankī)

Characteristics

Race

Human

Gender

Female

Age

18

Height

162 cm

Weight

59 kg

Birthday

September 17

Hair Color

Ashen blonde

Eye Color

Hazel

Blood Type

A-

Professional Status

Affiliation

Magic Council

Occupation
Previous Occupation

Abbess
Nun

Base of Operations

Fiore

Personal Status

Status

Active

Relative(s)

Previous Head Abbess of Monastic Order of Bhūmi (previous self, killed by Vishvalita Sharaksa)
Vishvalita Sharaksa (adoptive daughter of previous self)

Magic

Magic
Weapons

Sword
Baton
Liliara Muirgen ( リリアラ・ムイルゲン, Ririara Muirugen) is a female Mage whose mind was erased by the Monastic Order of Bhūmi and replaced with the identity of their previous head abbess, who died in combat with Vishvalita Sharaksa. As a result, she has become a rather pious person and devotes the majority of her time to helping the poor and unfortunate. Prior to this, she was a delinquent youth who devoted the majority of her time to illegal activities. The takeover made her more pliable and obedient, causing a 180 degree shift in her behavior. While the identity change may seem simple in practice, it has led to some major complications, which in turn made the practice questionable at best. Because the identity of Liliara is that of neither the previous Liliara nor that of the head abbess, she is an amalgamation of the two and a separate person in her own right.
Appearance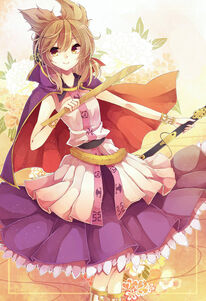 Personality
History
Equipment
Powers & Abilities
Relationships
Trivia
Behind the Scenes
Community content is available under
CC-BY-SA
unless otherwise noted.