Lippin Crocker
Kanji

リッピヌクロッカー

Rōmaji

Rippin Kurrokā

Alias

Wind Vase (風花瓶 Kaze Kabin)

Characteristics

Race

human

Gender

Male

Age

63

Hair Color

White

Eye Color

Unknown

Professional Status

Affiliation

Wind Scythe

Guild Mark Location

Unknown

Occupation
Team

None

Partner(s)

None

Personal Status

Status

Active

Magic

Magic

Suppressor Eye
Wind Magic
This article, Lippin Crocker, is property of SluttPanda.
Lippin Crocker
(リッピヌクロッカー
Rippin Kurrokā
) is a
Mage
, the
Guild Master
and founder of the
Wind Scythe
Guild; based in
Crocus
. He is known as
Wind Vase
(風花瓶
Kaze Kabin
) across the city.
Appearance
Lippin appears as a small, elderly man with several wrinkes on his face; his eyes are hidden behind blacked out goggles, due to the nature of his magic. He has white hair, on the back and sides of his head in a spiked fashion; he also has a large, shaggy beard and moustache tied into two chords at the end, from which peaks out a very large smile, with a tooth missing. He wears light green rags and most of his body is concealed by the orange, decorative vase that he is constantly seen inside. His arms also bear several tattoos, none of which are his guild stamp.
Personality
Lippin is a very stern man, seemingly hating failure, or even the thought of failure, he was shown attacking his guild members for not only failing the Rat Race, but for embarrassing him and the guild and for answering him back. He seems to have control issues.
Synopsis
Grand Magic Games arc
During the end of the first day of the Grand Magic Games, Lippin is seen berating his guild's five representatives for losing the Rat Race. After they attempt to redeem their honour by stating that there was just too much powerful competition, resulting in him attacking them weith his magic and eventually he is put to sleep by a passing Balder Hundrascher, the team then carry him back to their guild.
Magic and Abilities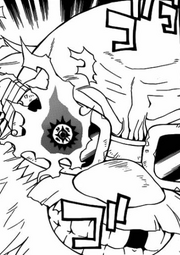 Suppressor Eye (抑制目 Sapuressā Ai): Lippin uses an unusual Eye Magic seemingly based in his right eye, It allows him to suppress the target's magical power with his gaze, leaving them unable to use any magic. This magic does not work on magic items or armours, rendering it useless against Holder-Mages and it is uneffective on those who wear glasses. When activated his eyes gain a dark zig-zag outline around them and triangular marks around the irises, the seems to be surrounded by flame-like energy.
Wind Magic (風魔法 Kaze Mahō): Lippin is also a master of wind magic, being able to create wind and manipulate the existing wind already around him, using it to form large gusts and hurricanes with ease in mere seconds. He has shown incredible accuracy in creating his wind blasts, he can also shape them into small dragon-esque entities to attack the target. He can also use the wind to levitate his vase.
Trivia
Community content is available under
CC-BY-SA
unless otherwise noted.