This article, Lori Torigaya, is property of Morty16.
This page, Lori Torigaya, is currently under construction. Please bear with the changes made by the author.
Lori Torigaya
Kanji

ローリー 鳥谷

Rōmaji

Rōrī torigaya

Characteristics

Race

Human

Gender

Female

Age

15

Height

162 cm

Weight

103 lbs

Birthday

April 29th

Hair Color

green

Eye Color

pink

Blood Type

B

Professional Status

Affiliation

Panther Claws
Occupation

Mage

Previous Occupation

high school student

Partner(s)

Personal Status

Status

Active

Relative(s)

Sarah (older sister)

Magic

Magic
Weapons

Katana

Lori (ローリー rori) is a mage, She is also the younger sister of Sarah.
Appearance
Lori is a slender girl,She has light skin and dark green hair with two long in front. She wears a white scholl uniform sometimes a sweatshirt with a black lolita-like skirt. Shewear glasses too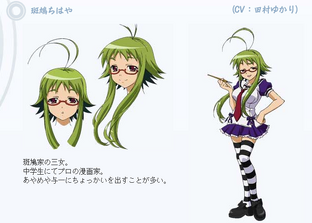 Personality
Lori is a sweet girl who is very playfull, she is very competive with her sister, Their quarrel often and almost don't get along very well, but they love each other. Lori is of cheerful nature, enjoying the company of her comrades. She loves to make fun of her sister a. She doesn't fight much, but when she is forced tot, she shows no mercy even though she is fundamentally opposed to what she is doing.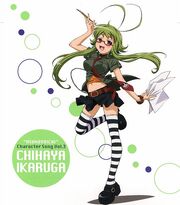 History
Magic Abilites
Solid Script is her main magic, since she like writing and drawning.
Solid Script: Silent : Lori writes "Silent" on air and throw it to her enemy. This word can be used to cancel sound based attacks.
Solid Script: Fire : Lori writes "Fire" on air and words begins to burn.
Solid Script: Iron: Lori writes "Iron" on air from iron words.
Solid Script: Water: Lori writes "Water" on air and water attack the target.
Solid Script: Guard: Lori writes a word "Guard" in the air, which creates a barrier, cover her from opponents attacks. [61]
Solid Script: Hole: Lori writes a word "Hole" on the ground, which changes it into a trap. [62]
Solid Script: Storm: Lori writes a word "Storm": creates strong gust of wind.
Orient Solid Script: Lori is able to do this magic too becouse she is able to a sword.
Gō (轟 ごう) :This word creates a deafening sound that drowns out all other sound making it nearly impossible for the enemy to hear anything else. Can be canceled out with "Silent"
Kan (貫 かん): This word creates a beam of energy, which pierces the target set by the user.
Dark Ècriture: she can use drak ecriture too, but its need a lot of energy
Teleportation: Lori is able to teleport by turning his body into runes; such runes float in the air and travel to the desired location, where they unite to form Lori's body once more.
Dark Écriture: Pain (闇の文字・痛み Yami no Ekurityūru: Itami): By inscribing runes onto his opponents, Lori can inflict immense pain upon them.
Community content is available under
CC-BY-SA
unless otherwise noted.