This article Lynx Vistille, is the sole property of Ashy and as such, please do not edit this article without my permission. If you wish to use or change this article in any beneficial way, please discuss with me...and be judged!
"Haven't you heard? Stray cats like me are quite dangerous. We lurk around in the open, or in the alleys. We avoid the eyes of the suspicious with our charms, softly placing our paws on whatever, or whoever, we wish. We stare them down using these bright eyes...and then kill them. An endless cycle of murder, but for what? Oh, nothing more than a few foodscraps."
— Lynx introducing his lifestyle to Alice.
"Those soft silver paws are no more than an illusion."
—Ashy
Lynx Vistille
Kanji

リンックス・ビスティル

Rōmaji

Rinkkusu Bisutiru

Alias

"Cheshire Cat" (チェシア・キャット, Cheshia Kyatto)

Characteristics

Race

Human

Gender

Male

Age

25

Height

180cm

Weight

70kg

Hair Color

Silver

Eye Color

Blue

Blood Type

B-

Professional Status

Affiliation

Under Wonder

Guild Mark Location

Stomach

Occupation

S-Class Mage
"Cheshire Cat"

Previous Occupation

Contracted Assassin

Team

Black Faction

Base of Operations

Under Wonder Headquarters

Personal Status

Status

Active

Magic

Magic
Weapons

Sword

Lynx Vistille (リンックス・ビスティル, Rinkkusu Bisutiru), regarded primarily as "Cheshire Cat" (チェシア・キャット, Cheshia Kyatto) is a S-Class Mage of Under Wonder as a member of its Black Faction. He was a notorious assassin-for-hire prior to meeting Alexandria McGee, although their encounter lead him to ultimately join her. Beyond incurring mischief and living for his own self-satisfaction, any particular goals Lynx has in life are left up in the air. After all, even among the ubiquitous ensemble of characters he is acquainted with, the Cheshire Cat stands out for his, ironically, lacking presence.
Appearance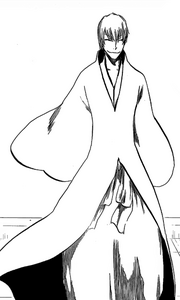 As expected by a man of Lynx's repute, the primary impression one feels upon first meeting the man is one of mystery and perhaps even fear. After all, the first thing one would gaze upon when encountering the "Cheshire Cat" are his slit eyes, that immediately cause one to be on-guard, even if they are well-acquainted with him. Accentuating this iconic expression is the small grin placed on top of a highly contoured face and the crown of silver hair atop his head, leaving an eerily supernatural feeling exuding from the individual, which is surmised to be part of his "appeal" as an assassin, though what exactly this constitutes is left up in the air.
More Coming Soon...
Personality
History
Synopsis
Magic and Abilities
Trivia
Quotes
Behind the Scenes
Community content is available under
CC-BY-SA
unless otherwise noted.