This page, Magnasium Dark, is currently under construction. Please bear with the changes made by the author.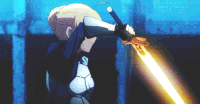 "No one shall touch this article or else you will suffer."
No one should touch this article or else Saber will punish you with her Noble Phantasm, Excalibur. This article Magnasium Dark, is a sole property of belonging to the following authors, White, Advent, F and A, and Justin. As such, no one is allowed touch this article without the authors' concern. If you truly want to edit this article, please ask for F and A's permission
Magnasium Dark (マグネシシうまダーク, Magunashiuma Daaku), is a dark guild located somewhere in the land of Fiore. Nothing is known about them, since all the members wear black cloaks when doing missions so their identities is protected. However, it is revealed that the guild is very big, and is three times the size of Fairy Tail and has seven S-Class Mages.
They appear as antagonists in the story Fairy Tail: Enchanted.
History
Location
Members
Synopsis
Goals
Trivia
Community content is available under
CC-BY-SA
unless otherwise noted.