"People see me as a Cursed Child, I see myself as a Demon, but the strangers see me as Human. I personally don't know anymore. I'm just confused, and tired of trying to make up my mind of what I am. So, I just roll with it."

— Mako's view of herself.
Mako
Kanji

魔子逆夢

Rōmaji

Mako Sakayume

Alias

Cursed Child (蠱子, Majiko)

Characteristics

Race

Human (Cursed)

Gender

Female

Age

23

Hair Color

Pink

Eye Color

White

Professional Status

Affiliation

Herself

Previous Affiliation

Unnamed Demon

Occupation
Base of Operations

Wandering

Personal Status

Status

Alive

Relative(s)

Unnamed Parents (Deceased)
Unnamed Demon (Adoptive Parent, deceased)

Curse

Curse

Yaksha (夜叉, Yasha lit. Fork in the Road of Night)

Weapons

Lesser Key (地獄の七二将軍 (レッサー・キー), Ressā Kī lit. 72 Generals of Hell) (Modified)
Black Blood (黒血, Kokketsu)
Mako Sakayume (魔子逆夢, Mako Sakayume Lit. Demon Child of a Dream Contradicted by Reality) is a Human who was cursed by an unnamed Demon, after said Demon killed her family and took the infant child with him, naming her and, in an attempt to turn her into a Demon, cursed her, becoming known as a Cursed Child (蠱子, Majiko) as a result.
The Curse resulted in turning Mako into a Pseudo-Demon (疑似魔, Gijima lit. Fake Demon), being a Human capable of utilizing Curse, and being more resistant towards Anti-Magic Particles, but with greater risk and immeasurable pain as a side effect. Her Demon parent was evantually killed by Tenma Asaboshi when she was in her late teens, but managed to escape before he began hunting her.
Appearance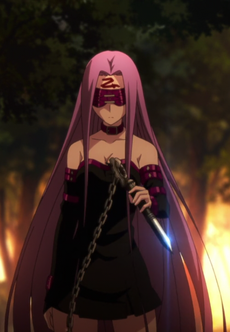 At first glance, Mako's most defining characteristic is her incredibly long pink hair, almost reaching her feet, which flows smoothly all the way, with no bangs, but has two strands infront of her chest. Her other defining trait are her white eyes, that have square pupils, a side effect of the Yaksha Curse, making her blind, which is usually covered by a purple eye mask. She also has a red mark on her forehead that represents the Curse's presence, resembling a "Z".
She is rather tall, and wears a black body dress, that has resemblance to a short skirt, with purple linings on her bustline, exposing her cleavage, as well as arm gloves with several purple circles on her arms, she also wears thigh high black boots, and has a purple choker around her neck.
Personality
Equipment
Lesser Key
(地獄の七二将軍 (レッサー・キー),
Ressā Kī lit. 72 Generals of Hell
):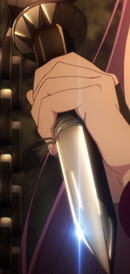 A mass produced type of blade, a "blessed weapon" that is meant to be an anti-thesis to Demons. When cut, or stabbed, a Demon's flow of Curse power becomes disrupted, created and unstable fusion, and making it difficult for the Demon to utilize its Curse for a while. Mako recieved a modified version of the Lesser Keys by
Azazel
, who modified one of Tenma's Lesser Keys, turning it into a dagger attached to a long chain, with a ring on the other tip. The only part that is actually lethal to the Demons is the dagger, but also the chains that are said to be nigh unbreakable, due to the modifications done by Azazel.
Powers & Abilities
Physical Prowess
Master Hand to Hand Combatant:
Enhanced Strength:
Immense Speed & Agility:
Immense Endurance:
Enhanced Durability:
Curse
Yaksha (夜叉, Yasha lit. Fork in the Road of Night):
Black Blood
Trivia
Mako's appearance is based off of Rider from Fate/stay night.
Help with the character concept was given by Ashy, hence credit goes to him for his help.

Credit also goes for helping with the screenshots for the character.
Community content is available under
CC-BY-SA
unless otherwise noted.