This article, Miki, is property of FbAddict.
Miki
Kanji

三木

Rōmaji

Miki

Characteristics

Race

Demon

Gender

Male

Age

25

Height

5'5½"

Weight

131 lbs

Birthday

March 9

Hair Color

Blue

Eye Color

Purple

Blood Type

A

Professional Status

Affiliation

Moon Demon

Occupation
Partner(s)
Base of Operations

Moon Demon Building

Personal Status

Status

Alive

Magic

Magic
Image Gallery
Miki is an S-Class Mage of the Moon Demon Guild, designed specifically for demons.
Appearance
Miki is a young, slim demon with blue skin and elongated ears, traits shared by his partner Bugsy. His hair is also blue and spiked in a short, unkempt manner. His fangs and nails are sharp, contributing to a rather grim and dark appearance. He wears blue trousers, black boots and a loose-fitting dark-green trenchcoat, open slightly to reveal his chest.
Personality
He is loud-mouthed and arrogant, bad mouthing the enemy to the point where the snap, escaping physical attacks with blinding speeds, a trait he uses to boast to his enemies. Miki seems to have slight sociopathic/sadistic tendencies, cutting open an opponent's clothes and asking if they would like to be diced or evenly chopped into cubes.
Relationships
History
Synopsis
Magic and Abilities
Transformation
(変身魔法
Henshin Mahō
): Like all other demons, Miki has the ability to use
Transformation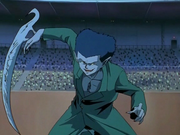 Magic
, which allows him to transform his body into that of a human, although he has not yet demonstrated this technique. He employs this as his main form of combat and can transform parts of his body into weapons.
Finger Scythe: Utilizing his Transformation ability, Miki transforms his wrist and finger into a long, decorative, blue scythe. This scythe can be used to easily cut down enemies. Though it's full power was not shown as he was quickly dispatched by Alessandro Barbossa.
Flight: Like all other demons, Miki has the ability to sprout demonic wings, giving him the ability to fly. This combined with his enhanced speed and Finger Scythe proves a deadly combination.
Enhanced Speed: Miki has shown to be able to keep up with the likes of Alessandro Barbossa albeit the latter was not using any magic to increase his speed.
Trivia
Behind the Scenes
Community content is available under
CC-BY-SA
unless otherwise noted.