"I'll...blind you with my light, before I burn you with its radiance. Because you've lost the right to have my mercy!"

— Mitera in a rare moment of anger
Mitera Dagonet
Kanji

ミテラ ダゴネット

Rōmaji

Mitera Dagonetto

Alias

Paladin of Light (義侠の士の光, Gikyōnoshi no Hikari)
Deum Lucem (光神 (ディアム ルセム), Diamu Rusemu lit. Light God)
Number One Devil (ノンブル一悪魔, Nonburu Ichi Akuma)

Characteristics

Race

Human

Gender

Female

Age

40+

Hair Color

White

Eye Color

Red

Professional Status

Affiliation

Marx Dagonet
Herself

Previous Affiliation
Occupation

Housewife

Previous Occupation

Rune Knight Captain

Base of Operations

Mansion

Personal Status

Status

Alive

Relative(s)

Marx Dagonet (Husband)
Archard Dagonet (Son)

Magic

Magic
Weapons

Black Blood (黒血, Kokketsu)
Mitera Dagonet (ミテラ ダゴネット, Mitera Dagonetto) is a Mage and retired Rune Knights Captain, with an almost legendary status in Seven, and its Magic Council's Branch, being most famous for her mastery over Light Magic, causing her to be known as the Paladin of Light (義侠の士の光, Gikyōnoshi no Hikari), later even getting the title of Deum Lucem (光神 (ディアム ルセム), Diamu Rusemu lit. Light God), being believed to be the strongest Light Magic user of her time.
Eventually retiring, she married Marx Dagonet, moving onto a secluded area in order to in peace away from the large crowds. However, Marx was possessed by Belial at his death bed, the demonic mask persuading Mitera to put him on her dying husband, fooling her to believe it would save his life. After possessing his body, Belial was ordered to remain with Mitera by Azazel, forcing to infect her with Black Blood, as a potential candidate for his Ultimate Demon, and live with her. As Marx's wife, she is also the mother of Archard Dagonet, having been born after an artificial impregnation performed by Azazel, utilizing the DNA of Marx, making it more akin to cloning.
At the moment, Mitera is considered to be Azazel's Number One Devil (ノンブル一悪魔, Nonburu Ichi Akuma), meaning she is his strongest and greatest candidate for his Ultimate Demon, due to surviving the side-effects of the Black Blood through sheer willpower, managing to endure its infection up to 100% without outside help, only a fake medicine given by Azazel.
Appearance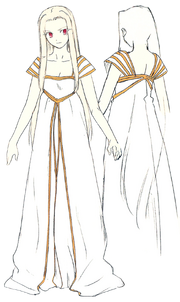 Despite being well ove 40 years of age, Mitera looks much younger than that, being mistaken for being 20 years old at best, possessing a slender figure, pale skin, long, smooth white hair that reaches to her waist, and red eyes with black pupils. This young look is hinted to be a result of the Black Blood maintaining her body young as if no time passed for her, but also made her skin pale, due to the extreme strain it had on her body.
Typically, Mitera wears a simple white-coloured dress, with a golden linning design, the dress itself being too long for her, hitting the floor. It exposed her collarbone and cleavage on the front, and from the back, exposed a part of her back, while being sleeveless, and fully exposing her arms.
Personality
Powers & Abilities
Physical Prowess
Magical Abilities
Light Magic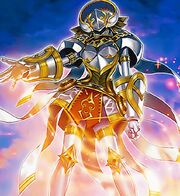 Trivia
Mitera, or Mitéra, is Greek for "Mother", reflecting her being Amon's biological mother.
Community content is available under
CC-BY-SA
unless otherwise noted.