"Mine! My Master! You lot can go die in a corner for all I care! But she...she is mine, and mine alone. Do not come near her."

— Nebula monopolizing her Master.
Nebula
Kanji

ネブラ

Rōmaji

Nebura

Alias

Dark Cloud (黒雲, Kurokumo)
Mammon (マモン, Mamon lit. Greed)

Characteristics

Race
Gender

Female

Age

100+

Hair Color

White

Eye Color

Orange

Professional Status

Key Type

Black

Owner

None

Days

Any

Affiliation

Herself

Personal Status

Status

Alive

Way of Combat

Magic
Weapons
Nebula (ネブラ, Nebura lit. Cloud) is a Celestial Spirit known as the Dark Cloud (黒雲, Kurokumo), who was banished from the Celestial Spirit World, due to her monopolizing her previous Master for herself, which costs the life of her Master. She was later confronted and modified by Azazel and converted into a Maken, becoming a "black key", and Maken #5 (魔剣ンバー五, Demonic Sword Number Five), representing Greed, and then dubbed Mammon (マモン, Mamon lit. Greed) by Azazel, as her Maken name.
Appearance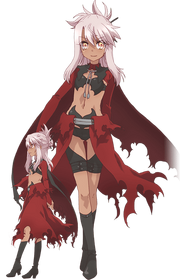 Nebula has the appearance of a short and petite young girl, with dark skin and long white hair, that reaches her shoulders, and is tied in a bob behind her head, with two strands on each shoulder. She also has strikingly golden orange eyes, with black pupils.
Nebula's outfit is a very revealing and skimpy attire, consisting of large red robes, torn and hanging like capes, with an armor-like chest piece on her chest, and armor on her waist, which are the only things covering her body. As well as black boots.
Personality
Powers & Abilities
Physical Prowess
Magical Abilities
Black Blood
Trivia
Nebula's appearance is based off of Kuro from Fate Kaleid Prisma Liner Ilya.
Nebula refers to an insterstellar cloud that exists in space, and are often star forming regions.
Community content is available under
CC-BY-SA
unless otherwise noted.