Note: This page or section is currently under construction. The author(s) are very sorry.
This article, Ryan Havoc, is property of Mirasman3.
Ryan Havoc

Characteristics

Race

Caucasian

Gender

Male

Age

18

Height

5'8

Weight

160 lbs

Birthday

April 17

Hair Color

Blonde

Eye Color

Blue

Professional Status

Affiliation

Blue Pegasus Guild

Occupation

Mage

Team
Partner(s)
Base of Operations

Blue Pegasus Building

Personal Status

Status

Active

Magic

Magic

Requip(The Gunner)

Weapons

Various Guns
Ryan Havoc is a mage of Blue Pegasus. He is part of Team Blue Wing with his best friends Jake Grinto and Ryo Tesagumi . He is a master gunner.
Appearance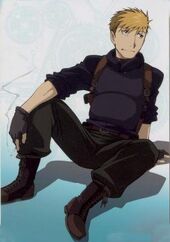 Ryan is an average size man. He is lean built also. He has dirty blonde hair similar to Ryo's. He has light blue eyes. He wears an blue coat and a matching blue pants. Underneath he has a black long sleeve shirt tucked into his pants. He wears black finger less gloves when using his guns. He has black boots.
Personality
Ryan is a very easy-going kind person. He usually doesn't care about what goes on around him. Yet when his friends are involved he will get serious and act. He is a very funny person who loves to tell jokes sometimes at inappropriate times. He will take some battles as a joke if nothing is at stake and his friends are not involved.
Sypnosis
Magic
Requip
: Ryan has the magic requip. He is able to bring items from a poket dimension.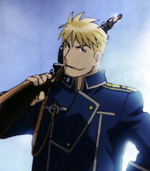 The Gunner: His requip is the gunner. He is able to requip many different types of guns.
Unison Raid:Ryan is a user of unison raid he has been shown using it with his friends various times most times with Jake.
Master Hand-To-Hand Combat: His team trains every day so they can fight without their magic if they need to. Ryan has shown to be a master in hand-to-hand combat many times.
Equipment
Various Guns
: Ryan has many different guns that he can requip with he has used many.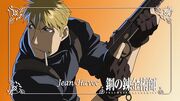 Sniper Rifle: Ryan has used the sniper rifle.
Hand Gun: Ryan uses the hand gun often.
Douple Hand Gun:Ryan uses double hand guns.
8Shotgun: Ryan has used the shotgun.
Relationships
Community content is available under
CC-BY-SA
unless otherwise noted.