This article, Sadao, is property of Morty16.
This page, Sadao, is currently under construction. Please bear with the changes made by the author.
Sadao
Kanji

貞夫

Rōmaji

Sadao

Characteristics

Race

Human

Gender

Male

Age

15

Hair Color

yellow

Eye Color

brown

Professional Status

Affiliation

Panther Claws
Occupation

Mage

Partner(s)

Personal Status

Status

Active

Magic

Magic
Weapons

Katana
Apparence
Sadao has blonde hair, he has brown eyes,he is always wearing a scarf, mostly black or dark blue. He wears an green traditional male's kimono with a blue-green jacket over it, along with traditional straw sandals and possibly bandages around his legs and feet. Some of his red strings are attached to the jacket.
History
Sadao is most the time lonely, and train lonely, he believes that he could do everything alone believed that comrades and friends were nothing more than hindrances to him. After joining Panther Claws Sadao changed, and started to stay with friends, but he was still a bit rude, easily irritated and slightly vulgar, often resorting to violence to solve his problems. However, his personality seems to have changed drastically when he met Kenjiro who became is close friend, becoming more gentle and polite, though he still remains strictly loyal and serious. He seems to have a weakness for girls.
Magic Abilites
Binding Magic (拘束魔法 Kōsoku Mahō) is Sadao main magic, he attacks with his strings and with binding magic.
Nekōsoku Tube: The user conjures magical tubes which they fling at the target and bind them, effectively restraining them. The tubes constrict or stretch on the user's command. The tubes nullify the Magic of the one it wraps around
Kitten Blast: The user produces restraining tubes from both hands and combines them together, blasting them towards the target in a spiral motion.
Bind Snake: A spell that appears in the form of a snake tattoo. The snake winds its way around the target's body which restricts their movement.
Cat's Cradle, Spiral Blade: is a technique whereby black string is laid out in a spiral shape beneath an enemy's feet and slices them when pulled.
Thorny Whip: Is a technique, using his string or magical tube, he make them move quickly , them thorn attack the target.
Telekinesis (テレキネシス Terekineshisu) is Sadao's secondary magic, a type of Magic that allows the user to move physical objects and substances with their mind.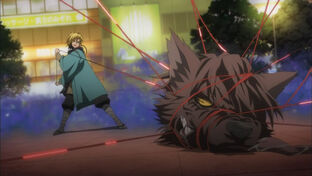 Community content is available under
CC-BY-SA
unless otherwise noted.