This article, Seneca Lanzo, is the sole property of Knives and Daisies.
This page should not be referenced, edited, or used without my explicit permission.
If you wish to use this article, please ask me
---
Seneca Lanzo
Kanji

セネッカランゾ

Rōmaji

Senekka Ranzo

Characteristics

Status

Alive

Race

Human

Birthdate

April 23

Birthplace

Fulgenti, Caelum

Gender

Female

Age

21

Blood Type

O+

Education

High School Graduate

Appearance

Hair Color

Jade Green

Eye Color

Purple

Vision

20/20

Skin Tone

Pale

Height

6'4" ft.

Weight

189 lbs.

Guild Mark Color

Slate Gray

Guild Mark Location

Right Palm

Professional Status

Affiliation

Reminiscence

Occupation

Legal Mage

Base of Operations

Reminiscence Guild Hall

Personal Status

Sexuality

Asexual

Marital Status

Single

Allies

Powers & Equipment

Magic
"'"

— Daisey
Seneca Lanzo (セネッカランゾ, Senekka Ranzo) is a Legal Mage in Reminiscence...
Appearance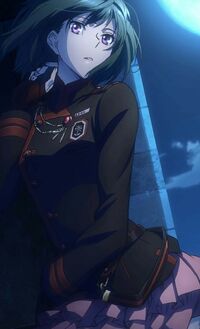 Seneca is a young woman of a tall and defined stature, having an overall well-developed physique. She prefers to keep a loose, but still desirably clean and styled appearance. Though her features are unique, they are lesser in extent in comparison to others, her height, hair and eye colors all easily being overwhelmed by that of her guildmates. She is not thought of to be entirely too welcoming or closed-off, giving off a somewhat indifferent though not quite apathetic aura.
Her hair is short, cut just below chin length, thus hanging just above her shoulders. It is straight, curving inward slightly at the ends. Her bangs are parted to the right side, small strands straying away. Because of the length, it is fairly difficult to do much in the way of styling her hair, so it is generally left down. Her hair is dark jade green, contrasting sharply against the pallor of her skin. She has round eyes with bright purple irises, crowned by thick, dark eyelashes and topped by thin eyebrows. With a high-bridged, pointed nose, low cheekbones, and a smooth, tapering jawline, Seneca's facial features are smooth, soft, and feminine.
Seneca is an incredibly tall young woman, and as a foreigner in Fiore, many question if Caelum is some Amazonian Isle because of it. She is geared towards heavy, physical combat, and her body shows this. In top shape, her entire body is corded with perfectly honed muscles, her sturdy build almost impossible to knock down. Though she expresses more femininity in her face, she lacks smooth curves, with broad shoulders and a small bust and hips dominating her physical structure. Her guild mark rests in the palm of her right hand, the forget-me-not slate gray in color. She stands tall and takes up space unabashedly, commonly seen propping her long legs across entire couches.
Seneca does not have any particular style of dress, choosing anything with some durability that will still fit her correctly. She has no preference between skirts or pants, wearing either depending on her mood. She typically wears what is most practical for her plans, thus, anything extremely tight-fitted is not used. Her clothes are very neutral in tone, being black, white, gray, or beige, accenting with bold red to best match the unique shade of her. One notable trait in her attire is her choice in shoes—or lack thereof; Seneca typically can be seen walking barefoot no matter where she is or what she's doing.
Personality
Relationships
History
Physiological Abilities
Ways of Combat
Physical Capabilities
Additional Capabilities
Magic
Magical Abilities
Earth Magic
Earth Magic (土魔法, Tsuchi Mahō)
Earth-Make
Earth-Make (大地の造形魔法アース・メイク, Āsu Meiku lit. Earth Molding Magic)
Trivia
Seneca's appearance is based on Lenalee Lee from D Gray Man Hallow
| | | | | | |
| --- | --- | --- | --- | --- | --- |
| Magic Power | | /10 | Strength | | /10 |
| Magical Control | | /10 | Speed | | /10 |
| Magic Aptitude | | /10 | Agility | | /10 |
| Magical Strength | | /10 | Reflexes | | /10 |
| Magical Combat | | /10 | Durability | | /10 |
| Hand-to-Hand Combat | | /10 | Stamina | | /10 |
| Close Weapons Combat | | /10 | Intelligence | | /10 |
| Ranged Combat | | /10 | ' | | /10 |
Community content is available under
CC-BY-SA
unless otherwise noted.