This page, Tiffany Lockhart, is the sole property of PuddingCups and may not be referenced, used or edited without her explicit permission.
This page, Tiffany Lockhart, is currently under construction. Please bear with the changes made by the author.
Tiffany Lockhart
Kanji

ティファニーロックハート

Rōmaji

Tifanīrokkuhāto

Characteristics

Race

Human

Gender

Female

Age

17

Height

5'5"

Weight

115 lbs.

Hair Color

Brown

Eye Color

Brown

Professional Status

Affiliation

Phoenix Tear
Crocus Magic Academy (Former)

Guild Mark Location

Right Forearm

Occupation
Base of Operations

Phoenix Tear Building

Personal Status

Status

Active

Magic

Magic
Weapons
Image Gallery
Tiffany Lockhart (ティファニーロックハート, Tifanīrokkuhāto) is a new Mage of the Phoenix Tear Guild as well as a graduate of the Crocus Magic Academy.
Appearance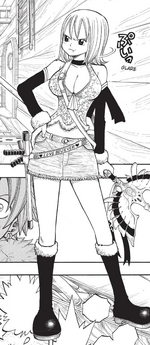 Tiffany is a teenage girl of average height. She is known to catch a lot of male attention because of her beauty, having large breasts and a curvaceous figure. Tiffany has short brown hair, with fringes running above her eyebrows and acting as bangs. Her outfits are designer brands, specifically
Heart Kreuz
because Tiffany finds them stylish.
Though she changes her clothes often, Tiffany's signature look consists of a white Heart Kreuz spaghetti strap top with a pinkish-red mark of the brand stamped on the front, a denim mini skirt and a pair of knee-high boots with lighter colored edges and a "V" shaped figure on the center. She also wears a belt which holds her Celestial Spirit Gate Keys along with a flowery silver armband on her right arm. Around her neck, she wears an item that means a lot to her; a silver locket which takes the shape of a heart, when opened it has a picture of her family.
Personality
History
Synopsis
Magic & Abilities
Celestial Spirit Magic (星霊 魔法 Seirei Mahō): Tiffany practices Celestial Spirit Magic, a type of Spatial Magic which allows her to summon Celestial Spirits, magical beings residing in the Celestial Spirit World, using the Keys of their respective Gates. Once a contract has been made with a Spirit, such Spirit will be available for Tiffany to summon on certain days, in which it will fight on her side and perform several tasks for her. Her Celestial Spirits have varying levels of power, with different ones being more suited for certain tasks than others, not necessarily related to battle.
Equipment
Her basic items are her Celestial Spirit Gate Keys.
Gold Keys
Silver Keys
Trivia
Her appearance is based on Elie from Rave Master.
She is named after the final fantasy character, Tifa Lockhart.
Community content is available under
CC-BY-SA
unless otherwise noted.