This page, Trivia (Tuffty), is the sole property of Tuffty and may not be referenced, used or edited without his explicit permission. If you are interested in the contents of this article simply make a request on his page.
This page, Trivia (Tuffty), is currently under construction. Please bear with the changes made by the author.
Trivia
Kanji

トリビア

Rōmaji

Toribia

Location

Structure

Government

Phoenix Family (Ruling House)

Population

2,500,000 (Approximately)
Trivia (トリビア Toribia) is the Kingdom where the majority of Gratis's people live. It is currently under the rule of the Heavenly Yakasha AKA Yuma L. Phoenix.
Description
It is comprised of a large gathering of central buildings surrounded by a 25 foot wall. There are a series of districts which surround the main city called the
Taikutsuna Districts
.
History
Locations
Citizens
Trivia

Phoenix Family
Yuma L. Phoenix
Scarlet
Yuki L. Phoenix
Government
Domo
King's Guard
Aegon
Police
Commissioner
Leonardo Corte
Civilians
Former
Kain Dressler
Tsubaki Orphne
Military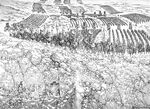 The members of
Torched Heaven
can also be considered part of the military as the guild master is also the king, with several members having active roles in the military's hierarchy. The military does posses several navy units of great strength but relies primarily on potent ground based attacks to counteract enemy forces due to Trivia's inland location.
Ranks
Unlike the rank system implored by the Ancyran Empire's Military, Trivia's military ranks have little to do with a actual strength as a pose to administrative and leaderships skills with military personnel progressing through the ranks according to their ability in the aforementioned qualities instead of fighting ability. This being said the military still posses members of considerable strength most notably Generals Kiyone and Gerald Yeager who are both both considered to be as strong, if not stronger than some of the more powerful members of Torched Heaven.
General (一般 Ippan) — The highest rank in Trivia's army. There are at least three generals that are each in charge of an entire army, with either a major or a colonel as their second-in-command.
Colonel (大佐 Taisa) —
Major (少佐 Shōsa) —
Captain (隊長 Taichō) —
Lieutenant (中尉 Shōi) —
Sergeant (軍曹 Gunsō) —
Corporal (伍長 Gochō) —
Private (民兵 Minpei) — The lowest rank in Trivia's army and naturally the one with the least responsibilities.
Admiral (大将 Taishō) — The highest and only known rank in Trivia's navy. The only known members, Klemin and Doyle appear to be in charge of the entire navy and reports straight to the king. Though it should be noted that Klemin has more authority than Doyle, with latter acting as the formers second-in-command despite having the same rank.
Members
Military

Army
General Kiyone
General Gerald
Yeager
General Seraiah
Colonel
Momonga
Colonel Roy
Bentley
Major Gwen
Kruger
Lieutenant
Carsten Krieger
Sergeant
Artemis Engel
Private Drake
Damien
Navy
Admiral Doyle
Admiral Klemin
Former
Private Kain
Dressler
Trivia
Community content is available under
CC-BY-SA
unless otherwise noted.