"You turn yourself responsible for everything you do."

This article, Troy Achilles, is the sole property of Mr. Draco, and cannot be mentioned, used or even edited without asking him first, except the collaboration articles. Are you capable of doing that?
This page, Troy Achilles, is currently under construction. Please bear with the changes made by the author.
"Demons...demons everywhere...everywhere...where?! Demons...must...kill...their souls...their...taste, hungry!! Give me!! Give it to me!!"
— Troy showcasing his madness.
Troy Achilles
Kanji

トロイアキレス

Rōmaji

Toroi Akiresu

Characteristics

Status

Alive

Race

Human (Devil Slayer)

Gender

Male

Age

26

Blood Type

O-

Appearance

Hair Color

Black-Brown

Eye Color

Red

Height

6'0"

Weight

170lbs

Professional Status

Affiliation

Avatar

Occupation

Cultist
Dark Mage

Base of Operations

Avatar's Hideout

Personal Status

Sexuality

Asexual

Marital Status

Single

Relative(s)

Family (Dead)

Powers & Equipment

Magic
Image Gallery
"Devourer."

Troy Achilles (トロイアキレス Toroi Akiresu) is an Exorcist Dark-Mage and a Cultist, part of the Avatar Cult, this puts him as a subordinate of the Tartaros Guild because of the Guild Alliance.
Appearance
Personality
Adramelech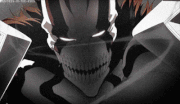 Relationships
Synopsis
History
Magic & Abilities
Natural Abilities
Ways of Combat
Master Hand-to-Hand Combatant:
Profficent Swordsmanship Specialist:
Assorted Others
Magical Abilities
Devil Slayer Magic
Flame Devil Slayer Magic (炎の滅悪魔法 Honō no Metsuaku Mahō):
Contract
Contract (悪魔の血協定 (コントラクト) Kontorakuto lit. Bloodpact with the Devil):
Synchronization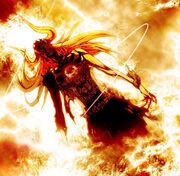 Devil Synchronization (悪鬼同期 Akki Dōki), often shortened down to the simple Devil Sync (鬼化内 (シンク・デビル) Debiru Shinku lit. Turn into the Devil Within), is considered to be the highest and strongest ability attained by a Devil Slayer within their life, lending Troy the power equal to that of the Devil while also increasing his purification ability. This form has thus been attained by Troy as he had finished reading the Fading Fire book as well as completed the Shedim (内鬼を繰り出す (シェディム) Shedimu lit. Unleash the Inner Devil), meaning he has become something dubbed as a Cambion (半鬼, Marian lit. Half-Demon) due to being viewed as some sort of fusion between an Etherious and whatever race they so happen to be. Having enough raw power and knowledge, Troy was capable of finishing the book and then developing his use of Magic Barrier Particles, namely Anti-Eternano, coming to an understand of how they work.
...
...
Troy's Devil Synchronization is called Adramelech (アドラメレク Adoramereku)...
Enhanced Prowess:
Enhanced Magical Power:
Killing Intent:
Equipment
Quote
"Souls...demons...their...souls...hungry"
— Another of Troy's madness trantums.
Trivia
He is based off of Scrooge from the Guilty Crown Series.

His Devil Synchronization is based off of Zangetsu from the Bleach Series.

The full meaning behind his name is that Achilles during the Trojan War had burnt down the city of Troy, being seeing as some kind of demon in the proccess.
When he roars in Devil Sync, not being capable of talking, Troy's scream is a mix of rage and pain as seen here.
His battle theme is Demon of Sorrow.
Community content is available under
CC-BY-SA
unless otherwise noted.