This article, Tyler, is property of Morty16.
This page, Tyler, is currently under construction. Please bear with the changes made by the author.
Tyler
Kanji

タイラー

Rōmaji

Tairā

Alias

Dark Rock

Characteristics

Race

Human

Gender

male

Age

34

Birthday

May 25

Hair Color

grey

Eye Color

black

Blood Type

B

Professional Status

Affiliation

Panther Claws
Occupation

S-class Mage

Partner(s)

Personal Status

Status

Active

Magic

Magic
Weapons

Katana
Tyler is a strong mage, and the S-class mage of Panther Claws.
Apparence
Tyler is a very massive, big and muscular man, Tyler has dark eyes and a wide. he has long white hair. he usually wears a dark kimono.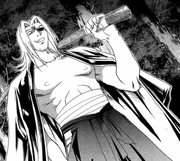 Personality
He is very humorous , and enjoys teasing Keiko Sensei and Matt whom he has something of a friendly rivalry with, since they are the S-class mages. In battle, Tyler usually waits for his opponent to attack first, analyzing their style and strength . Tyler is also very devoted to his promises. 
History
Magic Abilites
Earth Magic (土魔法 Tsuchi Mahō) is a Caster Type magic which utilizes the element of earth.
Iron Rock Spikes (岩鉄トゲ Gan Tetsu Toge): Tyler creates earth spikes that inmobilizes his opponent.
Iron Rock Powder Explosion (岩鉄起爆塵 Gan Tetsu Bakuchiri): Tyler summons earth spikes that pierce his opponent.
Rock Explosion: is an explosion of magic.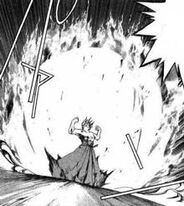 Darkness Magic:
Dark Moment (闇刹那 Yami Setsuna): Dark Moment is a spell that enables the user to cut out the lights in the room he is in, plunging it into darkness and allowing him and his comrades to attack unseen. The spell is controlled from the eye which turns red when the spell is active.
Dark Burst: Tyler looks at his opponent and, after summoning forth his Magic Seal, triggers an explosion.
Dark Eyes: its a spells, immobilize the target, and the target cant escape.
Beast Soul: Tyler releases the beast within him, and enters an animal-like berserker rage, boosting his combat stats several fold.
Master Hand To Hand Combatant, Enhanced Strength,
​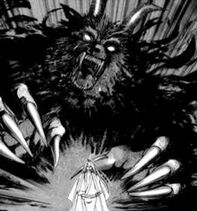 Community content is available under
CC-BY-SA
unless otherwise noted.