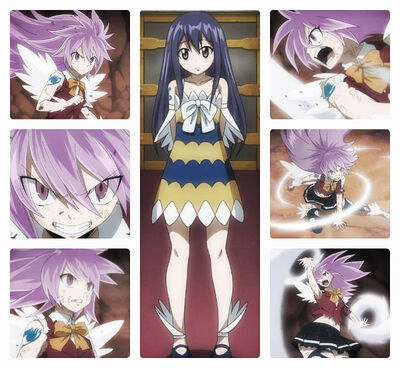 Hello <insert name here>, welcome to my userpage! I'm LastationLover5000, but you can just call me Darkrai, Aha, Noire, or Nagi; whichever one suits you best. I'm one of Fairy Tail Wiki's admins, and Per's partner in crime when it comes to writing. She and I write Fairy Tail: Dawn; it's fairly well received, so you should go give it a look. I'm in charge of character power levels and basic article formatting, and while I may not always be the best in terms of getting to my duties, I will try when the opportunity presents itself, so don't doubt me entirely; I'm not totally useless. If you have any questions, or think I can help, I'll try my best to lend you a hand — I can be reliable sometimes.
"The moment people come to know love, they run the risk of carrying hate."

— Madara Uchiha
Example text
---
Darkrai
Kanji

ダークライ

Rōmaji

Dākurai

Alias

Aha
Noire
Nagi

Characteristics

Race

Human

Gender

Male

Age

20

Hair Color

Brown

Eye Color

Brown

Blood Type

O

Professional Status

Affiliation
Occupation

Fast Food Employee

Partner(s)

Personal Status

Relative(s)

Per (best friend)
User:AnimeQueen9112 (girlfriend)

Magic

Magic

Creating Magic
Admin Magic
Whoo boy, this hasn't been updated in awhile. Either way, hello hello, <insert name here>. I see you've actually bothered looking further into my userpage. Well done. There's not much to know about me, honestly — I don't quite fancy giving out information to random people and I'm not going to start with a user browsing my page.
Just know I've used several wikis before; I started on the original Naruto Fanon several years ago. I joined multiple other fanon (primarily both BLEACH fanfiction wikis, and a few Dragon Ball fanon wikis, which are more or less dead in the water, among others), and I joined up in Fairy Tail fanon primarily because Per was here.
As a contributor to the wiki, I primarily work on an ongoing storyline with Per, called Fairy Tail: Dawn. It's an ongoing, alternate universe telling of Fairy Tail (though you'll question the universe it's set in sometimes), and it's pretty well liked for a fanfiction story on a wiki. Or as well liked as one can get.
My favorite character that I have ever created here is Alucard.
New Article
Just random trivia.
---
Favorite Manga
Bleach
Mahou Sensei Negima!
Fairy Tail/Naruto (Part I)
Prunus Girl.
Reversible School Life
Shoujo Sect (TOTALLY NSFW!!!)
Top 5 Favorite Anime
Yu Yu Hakusho
Dragon Ball Z
InuYasha
Bleach
NARUTO (original)
Top 3 Favorite Fairy Tail Characters
Jellal Fernandes (he is AWESOME. I HAVE SPOKEN!)
Wendy Marvell.
Chelia Blendy
Erza Scarlet
</div></div>
</center></div></div> </center></div></div> </center></div></div> </center>
</div></div> </center></div></div></div> </center></div></div> </center></div></div> </center></div></div>
</center>
Community content is available under
CC-BY-SA
unless otherwise noted.